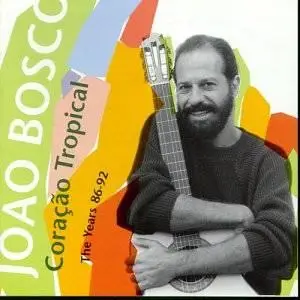 Joao Bosco - Coracao tropical - 1995
Musica Popular Brasileira - Mp3 - Stereo - 192 Kbps - 81,5 MB - 62:23
Tracks:
1. Zona de Fronteira
2. Tenho Dito
3. Corsario
4. Bolerando Com Ravel
5. Vendendo Amendoim Com el Manisero
6. Saída de Emergência
7. Funk de Fogo
8. Ladrão de Fogo
9. Sassao Preview
10. Granito
11. Paranóia
12. Eu E Minha Guitarra
13. Odilê Odilá/Zona de Fronteira
14. Eleanor Rigby/Fita Amarela/Trem Bala
Since no others leap to mind, I would have to say that Joao Bosco is the greatest civil engineer turned singer/songwriter in the history of Brazilian popular music. He graduated with his degree in 1972 but since then has been concentrating on becoming one of Brazil's most formidable songwriters. For most of his early career he supplied Elis Regina with some of her best material, indeed it could be said that each one made the other's career, but since her death, Bosco has stepped into the performance limelight with a great degree of authority and has been one of the more compelling figures in Brazilian music for the last 25 years.
Despite his growing popularity outside of his homeland, Bosco remains rooted in Brazil to the point of never leaving it for extended periods. So, while he remains somewhat obscure to American audiences, his music, rooted in Brazil's classic samba and bossa nova traditions, combines rock and roll, jazz and other ethnic styles in an eclectic brew that is a inventive and challenging as is he.
Download:
http://rapidshare.com/files/1698247/bieffe_JB643782COTR.rar
Password: ratataplan