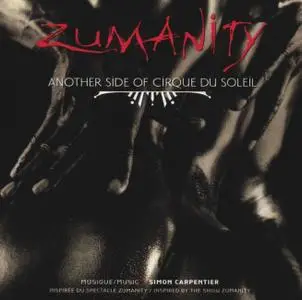 Cirque du soleil - Zumanity (2005)
MP3 | Soundtrack | 256 Kbps | 98,2 MB
Tracks:
1. MIO BELLO BELLO AMORE 2:58
2. ENTREE 0:31
3. EN ZUM 1:30
4. WIND 3:24
5. ANOTHER MAN 4:39
6. FIRST TASTE 0:31
7. DO IT AGAIN 4:42
8. WATER BOWL (AWAKENING) 5:24
9. THE GOOD THING 4:37
10. TICKLE TANGO 2:29
11. INTO ME 4:34
12. FUGARE 1:44
13. MEDITATION 1:20
14. PIECE OF HEAVEN 4:52
15. ZUM ASTRA 4:12
16. MANGORA EN ZUM 4:51
17. PER SEMPRE 6:21
18. BELLO AMORE 4:52
The 15th production from Montreal's Cirque du Soleil expands upon the troupe's willful, cutting edge redefinition of the traditional circus, yet scales it down to an intimate, erotic cabaret. An exploration of human love and sexuality in all its conflicted splendor, Zumanity leans heavily on its musical score for narrative and sultry mood, and composers Simon Carpenter and Robbi Finkel have essentially created an erotically-charged pop-musical suite whose eclectic styles and disparate ethnic roots underscore the show's pan-sexual intrigues. The spare "Mio Bello Bello Amore" anchors the production's intimacy and often bittersweet tone via the torch-song pleadings of Anna Liani, before the dark, orchestral-rock conceits of "En Zum" and "Wind" quickly expand a musical tack that comes to eventually encompass even the chamber string ensemble elegance of "Meditation" and soulful "Piece of Heaven." There's something for nearly every pop music taste here, from arena rock ballads ("Another Man") and Broadway farrago ("First Taste/Do It Again") to ambient-tinged cool ("Water Bowl," "Per Sempre"), house-savvy grooves ("The Good Thing"), the teasing "Tickle Tango" and "Fugare"'s compelling, R&B/alt.metal fusion.
Download:
http://rapidshare.com/files/6533762/Bieffe_MUS_3767CDS_ZUM.rar
Password: ratataplan