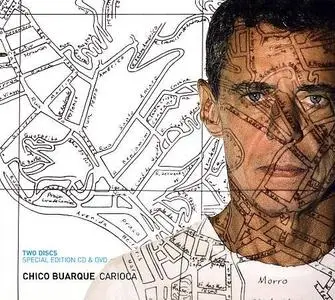 Chico Buarque - Carioca (2006)
Samba - Musica Popular Brasileira - MP3 - 128 kps - Joint Stereo
Re-post - New link
Chico Buarque - Carioca
1. Suburbio
2. Outros Sonhos
3. Ode aos Ratos
4. Dura na Queda
5. Porque Era Ela, Porque Era Eu
6. As Atrizes
7. Ela Faz Cinema
8. Bolero Blues
9. Renata Maria
10. Leve
11. Sempre
12. Imagina
Chico Buarque Biography
b. Francisco Buarque de Hollanda, 19 July 1944, Rio de Janeiro, Brazil. One of Brazil's most renowned songwriters, Buarque is both immensely popular and artistically innovative. Although he emerged alongside tropicalista artists such as Caetano Veloso and Gilberto Gil during the turbulent 60s, he never adopted their self-conscious, pop-orientated approach or their taste for cultural cut-and-paste; instead he aligned himself with the musical tradition of Antonio Carlos Jobim and Vinícius De Moraes, while at the same time testing its limits. Initially criticized by the more outwardly radical tropicália camp, he eventually became, like them, a cornerstone of MPB (Música Popular Brasileira), and through the years his songs have been recorded by countless performers. From early on, as the son of a prominent Rio family, Buarque was acquainted with artists and intellectuals; one of them was the poet and composer De Moraes, who introduced Buarque to his song "Chega De Saudade". In 1958, it became a bossa nova hit for Joao Gilberto and Buarque was hooked. During the early 60s, he studied architecture at university, but after the military coup of 1964, he dropped out and soon began his musical career.
He released his first single, "Pedro Pedreiro", in 1965 and the following year released his first album, Chico Buarque De Hollanda.
He became a national sensation, making frequent appearances on television as well as in the popular song festivals. His style recalled the great composers of earlier generations, and while his lyrics conveyed a highly poetic sensibility, they addressed common themes that had a mass appeal. However, he was not just a crowd pleaser, and starting with the production of his 1968 play Roda Viva, in which a popular singer is literally devoured by his audience, Buarque frequently dealt with subjects most artists would not touch. He spent a year in exile abroad, but returned in 1970 with his fervour undiminished. His song "Apesar De Você" (In Spite Of You) was immediately censored, a trend that continued throughout much of the decade. However, despite this constant scrutiny, he continued to challenge the status quo, earning the enduring loyalty of his fans. Aside from his many solo albums, he has composed music for numerous film and stage productions and published several novels. In 1999, Brazil's leading newsmagazine voted Chico Buarque the Century's Greatest Musician - high praise in a country full of great musicians.
Download:
http://rapidshare.com/files/7494339/Bieffe_MUS_CB366379_CAR.rar