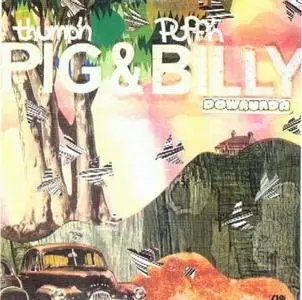 Artist:
Billy Thorpe & Warren Morgan (Thumpin' Pig and Puffin' Billy)
Title:
Thumpin' Pig and Puffin' Billy Downunda
Label:
Atlantic Records
Genre:
Rock & Roll
Released:
1973
Format:
MP3
Bitrate:
VBR, avg 198 kBit/s
Size: 53.7 MB (incl. 5% Recovery record)
Info
"Gonna create a disturbance in your mind…"

Thorpe's message in 1973 was without doubt loud and clear! He and the 'floating' personnel of The Aztecs commanded a pre-eminent position in Aussie rock. While artists such as Ross Wilson, Mike Rudd, Lindsay Bjerre and Gulliver Smith (to name but four of many) strove to push out and pull down boundaries in their music, it seemed somehow comforting that we continued to have Thorpie and pals providing no-nonsense, balls-out rock sustenance to the masses.

That is not to say that Billy's and the band's music lacked innovation or creativity musically. One of his tour-de-force concert staples at the time; exhilarating and provocative with its changes; was a fiercely-rocking piece called "F**k On Stage" ("whaddaya mean I can't say f**k on stage?!') - borne out of our hero's increasingly frequent arrests and detainments for the liberal use of that very word onstage! Another original concert chestnut from the time was Mamma. Here, each member of the band excelled with a solo turn, Billy's being a scat vocal unison guitar thing, with Gil's inventive and fulsome drum underpinnings consistently exciting. The old Ike and Tina Turner standard, Ooh Poo Pah Doo, proved perhaps the most memorable of the classic 'Sunbury Aztecs' live song list, involving as it did a prolonged audience-band call and response interlude, a gleeful threat by the perpetrator (Thorpe) to "create a disturbance in your mind", culminating in some of the rawest, lewdest heavy blues jamming that even the most jaded of audiences had witnessed.

The band repeated their festival success at Sunbury '73 and enjoyed another triumph by again selling out the Myer Bowl in Melbourne. This particular coup supplied added poignancy after a couple of abortive excursions the band made to the UK earlier in the year. One reason the Marquee gigs in London are said to have failed is…that volume! It was too much for the Brits, apparently!

On the recording front, Billy was certainly not idle in 1973. Not for one moment setting aside the Aztecs' busy performing schedule, he still found time to collaborate on quite a fine little album, it has to be said, with his long-time friend and at that time housemate, Warren "Pig" Morgan. The resultant album, "Thumpin' Pig and Puffin' Billy", is well worth seeking out, as is its pumping lead-off single, Captain Straightman.

Another curiosity of the time is the single Billy and Pig co-wrote and produced, with full Aztec backing, for the eccentric soul-blues singer Wendy Saddington. Looking Through My Window is a sensitively rendered epic ballad, well worth seeking out.

In August , Billy switched record labels from the independent Havoc to the newly-opened local arm of Atlantic Records, releasing the singles Movie Queen and Don't You Know You're Changing? in quick succession. Although '73's latter bunch of singles were ostensibly solo Thorpe releases, they nonetheless featured most of the extant Aztecs line-up (with help from Chain pals Phil Manning and Barry Sullivan) and served as appetisers for his 1974 offerings.

One particularly notable, innovative, and ultimately monumental Aztec event in 1973; mounted in the wake of the band's incredible popularity and dominance at this time; was the band's farewell concert at the brand new Sydney Opera House. The members were by this time going in different musical directions and this gala concert was staged as an extravagant bow-out.

The concert, the first rock performance at the Opera House, was recorded and released in 1973 as a double album. The show consisted of three one-hour sets, the first acoustic, the second, an elaborately-staged concept suite called No More War. The third set was an all-in all-star jam, bringing Lobby Loyde, Kevin Murphy and Johnny Dick back into the fold for the first time in years.

Before disbanding, the Aztecs recorded one more album for Atlantic.
Tracklist:
01 - Captain Straightman
02 - I've Cried Over You
03 - You Look After Me I Look After You
04 - Moving With Rock
05 - Early Morning
06 - Mothers And Fathers
07 - Just For You
08 - Sunny Day
09 - Bow My Head
10 - Mister Man
Download