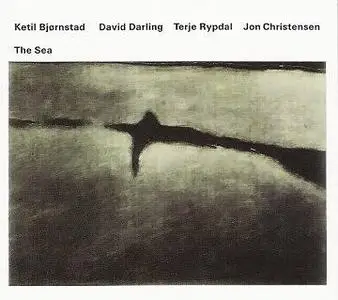 Bjornstad, Darling, Rypdal, Christensen - The Sea
ECM Records | 1995 | Genre: Jazz | Style: ECM
EAC wav image + CUE | Covers | 395 Mb
KETIL BJORNSTAD
Ketil Bjornstad is a unique figure in the arts in Norway, recognized not only as an unusually well-rounded musician (interpreter, improvisor, composer) but also as a writer. He has published some 20 books, primarily novels (including fictionalized biographies of Grieg and Munch, the latter translated into several languages, including English and German), and also collections of poetry and essays. His history as a musician is also unorthodox.
Classically trained in London, Paris and Oslo, Bjornstad made his debut at the age of 16 in 1969 as soloist with the Oslo Philharmonic, playing Bartok's Piano Concerto No. 3. An encounter with Miles Davis's In A Silent Way the same year changed his musical priorities and he left the classical world behind him. He first recorded in 1973 with a quartet including Arild Andersen and Jon Christensen, and through the 1970s enthusiastically monitored ECM's inroads into Scandinavian jazz - even though "jazz", at least in a traditional sense, is a music he has not wrestled with as a player.
THE SEA
Ketil Bjornstad: "
If you're coming from classical music, you have to recognise that the disciplines are different
." In
The Sea
group he keeps his own prodigious technique on a short leash.
"
In the way I'm working now, I feel an imperative not to overplay. I worked for many years as a solo improvisor and I'd grown accustomed to taking responsibility for all facets of the music, the development of the melody in the improvising as well as covering the rhythmic functions. It was almost shocking, during the recording of Water Stories, to find that I could achieve comparable results using far less notes. But I feel good about my role in the quartet. We have different levels of communicating. Sometimes it's about establishing a counterpoint, a relationship between the instruments, more than about 'solos'
."
Tracks:
1-12 =
The Sea I-XIIKetil Bjørnstad
- piano
David Darling
- cello
Terje Rypdal
- guitar
Jon Christensen
- drums