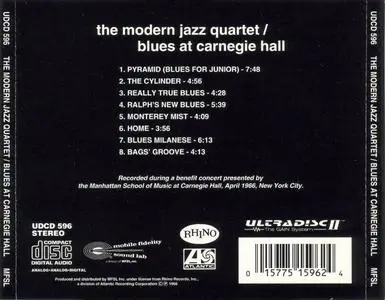 CD FULL RANGE ONLY | EXACT AUDIO COPY IMAGE (WAV+CUE) | 419 MB (259 MB RAR)| MOBILE FIDELITY SOUND LAB | AUDIOPHILE CD
Mobile Fidelity Sound Lab has been the undisputed pioneer and leader in audiophile recordings since the company's inception in 1977. Established by dedicated audiophiles, Mobile Fidelity's first and foremost goal was to offer faithfully reproduced high fidelity recordings that would compliment the numerous advances occurring in audio delivery systems. Throughout its history, Mobile Fidelity has remained true to this goal, pioneering state-of-the-art technologies and setting audiophile standards that remain in place today.
In response to rapid advancements in both recording formats and audio delivery systems over the past several years, Mobile Fidelity has maintained its ongoing commitment to improving industry standards. This has resulted in the introduction of numerous innovations in the audiophile arena: half-speed mastered Original Master Recording™ LPs, Ultra High Quality Records™ (UHQRs), high fidelity cassettes, consumer alignment devices for phono cartridges and audio cassette decks, Original Master Recording™ compact discs, the 24-karat gold plated Ultradisc™ CD and the Ultradisc™ Ultra High Resolution™ (UHR). To this day the independently owned firm continues its commitment to exceeding industry standards.
This is a true Collector's find for those individuals who want to own the finest and rarest pieces of musical history. It is similar to owning the artist's own Rare Gold Record Album in a Gold CD pressing. You will be one of the last people in the world to own these Limited Edition Long Out of Print Masterpieces that will add true value to your Collection.
MFSL LIMITED GOLD EDITION. This 24-Karat Gold Limited Edition is an audiophile collectors item that simply gives the feeling of being directly in the studio with the artist.
This recording is mastered from the Original Session Tapes and the disc is custom pressed using 24-Karat Gold (known for its superior qualities and resistance to oxidation). This Out of Print Gold bonafide collectible disc has all Liner Notes, Photos, and Artwork from the Original LP faithfully recreated.
A SONIC WORK OF ART. These Out of Print gems are the Ferrari of the audiophile CD market. Many over the last year have doubled or tripled in value. The future of these collectibles is so exciting because each piece is a sonic work of art that will never be reproduced using this expensive 24-Karat Gold mastering process. You will be one of only a few thousand in the world owning this audiophile classic.
Artist: The Modern Jazz Quartet
Title: Blues At Carnegie Hall
Format: CD ALBUM
Record Label: Mobile Fidelity
Catalogue No: UDCD596
Country of Origin: USA
Additional info: Deleted - A deleted or out-of-print item is one that is no longer manufactured.
Release: January 12, 1994
Notes: Recorded live at The Carnegie Hall in 1966 as a benefit for The Manhanttan School Of Music.
Tracklisting:
1. Pyramid (Blues For Junior) 7:48
2. The Cylinder 4:56
3. Really True Blues 4:28
4. Ralph's New Blues 5:39
5. Monterey Mist 4:09
6. Home 3:56
7. Blues Milanese 6:13
8. Bags' Groove 4:13
The Modern Jazz Quartet was established in 1952 by Milt Jackson (vibraphone), John Lewis (piano, musical director), Percy Heath (bass), and Kenny Clarke (drums). Connie Kay replaced Clarke in 1955.
Jackson, Lewis, and Clarke had originally played together in a quartet while in the Dizzy Gillespie orchestra from 1946 to 1950. Together with Ray Brown they played during interludes designed to give the trumpeters time to recover from the challenging upper register trumpet parts. The same group recorded as the Milt Jackson Quartet in 1951.
Jackson and Lewis originally shared the role of musical director but Lewis eventually took over the entire responsibility of this position.
The group occasionally played with classical musicians, but its repertoire consisted mainly of bop and Swing era standards. Among the original compositions from the band's book are "Django" by Lewis (a tribute to the Belgian jazz guitar player Django Reinhardt) and "Bags' Groove" by Jackson (Bags was his nickname).
Jackson left the group in 1974 partly he was tired of touring, and the group soon disbanded. In 1981 the group reorganized. Their last recording was issued in 1993. Heath, the last surviving member, died in 2005.
Listening! You can hear a difference! Enjoy it!
Links tested by laila (thanks) 08/06/2006
DOWNLOAD RAPIDSHARE LINKS (covers included), rar files (3% recovery)
(You need FEURIO,NERO, Alcohol or EAC to burn image files to music CD; load CUE file)
:
Downl...e Hall part 1 (99.1 MB)
Downl...e Hall part 2 (99.1 MB)
Downl...e Hall part 3 (61.5 MB)
Password (if this is require):
www.AvaxHome.ru