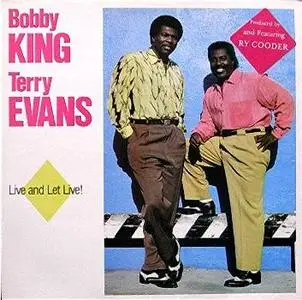 Bobby King and Terry Evans first became known as the distinctive voices on Ry Cooder albums like Chicken Skin Music, Show Time or Bob Till You Drop. In 1988 Ry thanked them for doing their great job by producing their first album 'Live and Let Live!" and, of course, by playing some great guitar on it. Live and Let Live became a gem of Southern soul and can't miss in a collection of anyone who loves the great Stax, Volt and Atlantic days.
Ron Wynn gave it 5 stars for All Music Guide and wrote:
While much contemporary R&B and soul offers more production than quality, the duo of Bobby King and Terry Evans demonstrated on this 1988 set that they could bring 1960s passion to a 1980s recording session. The duo's shared leads, rousing singing and inspiring qualities turned such numbers as "Seeing is Believing," "Saturday Night" and the title track into exciting, smashing treatments. Although their version of "Dark End Of The Street" may run a bit long at seven minutes plus, they don't do anything to ruin that number's legacy of memorable renditions.
Songlist:
1 Just a little bit
2 Bald head
3 Seeing is believing
4 Let love begin
5 Saturday night
6 Let me go back to the country
7 Got to keep moving
8 Live and let live
9 At the dark end of the street
Flac Lossless encoded, covers included, 3 rar files total 256 mb.
http://rapidshare.de/files/25902484/King___Evans_-_Live_and_Let_Live.part1.RAR
http://rapidshare.de/files/25902955/King___Evans_-_Live_and_Let_Live.part2.RAR
http://rapidshare.de/files/25902915/King___Evans_-_Live_and_Let_Live.part3.RAR