MP3 Format about 210 kbps Frontcover 109 MB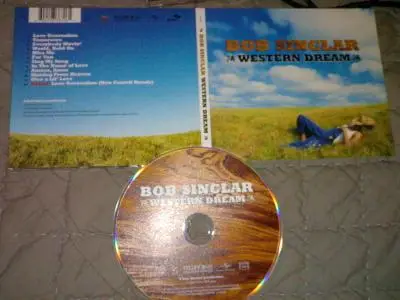 Sinclar started DJing in 1986, when he was just 18 years old, specializing in funk and hip-hop music, with the name Chris The French Kiss. His first club hit was "Gym & Tonic", a collaboration with Thomas Bangalter of Daft Punk, featuring vocals illegally taken from a Jane Fonda fitness tape. The Bob Sinclar persona was based on a character from Philippe de Broca's film Le Magnifique.
Sinclar is famous for popularizing the "french touch" of house music, with heavy use of sampled and filtered disco strings. His track "I Feel For You", a tribute to french musician Cerrone, from his second album Champs Elysées, hit #9 in the UK Top 40. On track "Darlin'", he worked with vocalist James "D-Train" Williams.
Sinclar has also worked under other pseudonyms. Under the aliases The Mighty Bop and Reminiscence Quartet, he has dabbled in hip-hop and acid jazz. He also created the Africanism project, where an ensemble of artists produce house music with a combination of latin, jazz, african and tribal flavors.
In 2005 he scored a hit with his single "Love Generation". The song reached #1 on the Australian ARIA Singles Charts. It also reached #1 on the German Media Control Single Charts in 2006.
Wanna read more see
http://en.wikipedia.org/wiki/Bob_Sinclar
http://rapidshare.de/files/19419544/Bobjos.part1.rar
http://rapidshare.de/files/19419443/Bobjos.part2.rar