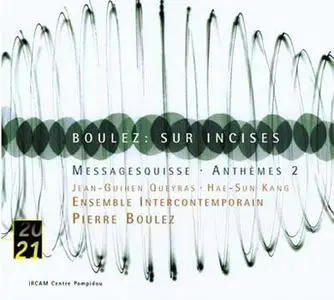 Pierre Boulez: Anthèmes 2, Messagesquisse, Sur Incises
EAC Image | APE | Log + Cue | 66:08 min | 100 MB + 100 MB + 19 MB RAR
Ensemble Intercontemporain, conductor: Pierre Boulez
This selection was nominated for the 2001 Grammy Awards for "Best Chamber Music Performance" and "Best Classical Contemporary Composition" ('Sur Incises'). This disc received the 2001 Gramophone magazine award for "Best Contemporary Recording."
In the avant-garde of the 1950s and 60s, Pierre Boulez established himself as the paragon of braininess and style, and while this disc reinforces his reputation as a master of form and formula, it also shows the septuagenarian composer is still evolving. The once ''fearful symmetry'' now has greater flexibility, and while his work has always used sound seductively it now has heat and passion to add to the unflappable cool of his earlier classics. All three works deal with an expansion of a solo instrument. Based on the piano work 'Incises', 'Sur Incises' for three pianos, three harps and three percussion instruments, treats the whole ensemble as an extended piano, a sort of multi-layered virtual instrument broken into categories of percussive attack, sustain and overtones. 'Messagesquisse' similarly pits a solo cello against a group of six cellos who refract the soloist's music as if in a hall of very tricky mirrors. The most amazing transformations take place in 'Anthemes 2', in which the solo violin of the earlier 'Anthemes' is now ingeniously processed and projected spatially in an electro-acoustic realization by IRCAM's Andrew Gerzso.
Tracklist:
1. Sur Incises: Moment I
2. Sur Incises: Moment II
3. Messagesquisse: Tres lent
4. Messagesquisse: Tres rapide
5. Messagesquisse: Sans tempo, libre
6. Messagesquisse: Aussi rapide que possible
7. Anthemes 2: Libre
8. Anthemes 2: I. Tres lent, avec beaucoup de flexiblite - Libre
9. Anthemes 2: II. Rapide, dynamique, tres rythmique, rigide - Libre
10. Anthemes 2: III. Lent, regulier - Nerveux, irregulier - Libre
11. Anthemes 2: IV. Agite, instable - Libre
12. Anthemes 2: V. Tres lent, avec beaucoup de flexibilite - Subitement nerveux
et extremement irregulier - Libre
13. Anthemes 2: VI. 1. Allant, assez serre dans le tempo
14. Anthemes 2: VI. 2. Calme, regulier - Agite - Brusque
15. Anthemes 2: VI. 3. Calme, sans trainer, d'un mouvement tres regulier - Libre