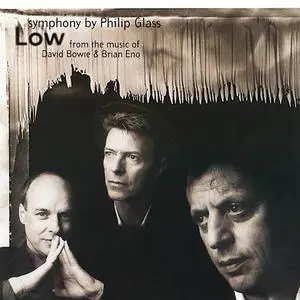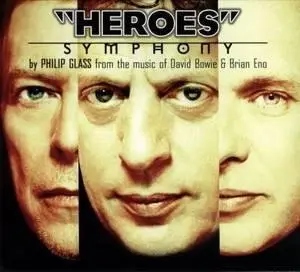 Philip Glass: ''Low'' and ''Heroes'' Symphonies (Bowie & Eno Meets Glass)
Classical | EAC (APE & CUE) | 6 parts / 406 MB
"Philip (Glass) has put more of himself in this new album, but the irony is that I believe that he's actually put his finger on more of my original voice. Hearing this material is a bit like being introduced to a brother or sister that you've been told you had, and you weren't really aware of their existence. And when you do meet them, obviously the very familiarity of the family features registers, but there's a whole life and all these things have grown up without your knowledge.The music has characteristics that I immediately recognize, but it has its own life. It has nothing to do with me. It's had all these experiences that I didn't know about. It really runs the gamut of emotions, from deep despair in "Neuköln" through to that upward spiraling of "V2 Schneider," and those two particularly for me capture really what I was trying to do. It really excited me. It was though Philip had fed into my voice…but somehow had arrived, I feel, a lot nearer to the gut feeling of what I was trying to do."
―David Bowie
_____________
Besides working in the classical tradition for the concert hall, for theater and film, Philip Glass (b. 1937) also has strong ties to rock, ambient music, electronic music and world music. Early admirers included musicians Brian Eno and David Bowie, who acknowledged the influence of Glass's minimalist style. Years later Glass, who had become friends with Bowie, orchestrated certain pieces from Bowie and Eno's collaborative albums
Low
and
Heroes
(which were originally written in Berlin in the late 1970s) in his first ("Low", 1992) and fourth ("Heroes", 1996) symphonies. In 1997, he produced
Music for Airports
, featuring an instrumental version of Brian Eno's work of the same name, performed by Bang on a Can All-Stars.
According to Philip Glass, the
Low Symphony
, composed in the Spring of 1992, is based on the record
Low
by David Bowie and Brian Eno first released in 1977. Their record consisted of a number of songs and instrumentals and used techniques which were similar to procedures used by composers working in new and experimental music. As such, this record was widely appreciated by musicians working both in the field of "pop" music and in experimental music and was a landmark work of that period. Glass further states, "My approach was to treat the themes very much as if they were my own and allow their transformations to follow my own compositional bent when possible. In practice, however, Bowie and Eno's music certainly influenced how I worked, leading me to sometimes surprising musical conclusions. In the end I think I arrived at something of a real collaboration between my music and theirs." (Philip Glass, New York City, 1992)
Following the success in 1993 with his
Low Symphony
, Glass repeated the experiment with another Bowie/Eno collaboration,
Heroes
, an album that drew its inspiration from the then-divided city of Berlin. The six movements of
Heroes Symphony
function as independent pieces that, between them, gradually build into a self-sufficient musical work. Like
Low
before it,
Heroes
was one of David Bowie's most experimental and avant-garde records, so it made sense that Philip Glass would follow the
Low Symphony
with the
Heroes Symphony
, adapting Bowie and Brian Eno's original, minimalistic synthesized sketches for full orchestra. The new arrangements emphasize the icy allure of the original compositions, and the shimmering, glassy textures sound coldly beautiful. Nevertheless, the
Heroes Symphony
doesn't quite hold together as an actual symphony, but it remains an intriguing listen, even if it is a disarmingly unchallenging one.
Please note that from now on, all my posts will be stashed only in the ''avant-garde'' sub-category. This is due to the heightened fear-factor of becoming the next victim of marauding trolls. Therefore, I encourage you to come back to this section frequently for the latest posts. Tracklisting:
''Low'' Symphony
(1993)
1 Subterraneans (15:07)
2 Some Are (11:17)
3 Warszawa (15:57)
''Heroes'' Symphony
(1996)
1 Heroes (5:53)
2 Abdulmajid (8:53)
3 Sense Of Doubt (7:20)
4 Sons Of The Silent Edge (8:18)
5 Neuköln (6:41)
6 V2 Schneider (6:48)