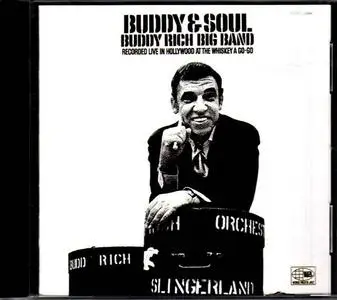 Buddy RICH - Buddy & Soul (Recorded Live) 169 Mb
RIP+UP (mp3@320) by Galmuchet + All Covers & Sticker
Recorded
Live 1969
/Reissued & Remastered 2000
Label PACIFIC Jazz
Personnel:
Buddy Rich (drums); Don Menza (soprano & tenor saxophones, flute); Joe Romano, Ernie Watts (alto saxophone, flute, clarinet); Richie Cole (alto saxophone); Pat LaBarbara (tenor saxophone, flute, clarinet); Don Englert (tenor saxophone); Joe Calo (baritone saxophone); Nat Pavone, Dave Culp, Bob Vance, Sal Marquez, Mike Price, Darryl Eaton, Ollie Mitchell, Ken Faulk (trumpet); Rick Stepton, Vince Diaz (trombone); Don Switzer (bass trombone); David Lahm (acoustic & electric pianos, organ); Herb Ellis, David Dana, Freddy Robinson (guitar); Bob Magnusson (acoustic & electric basses); Larry Bunker, Victor Feldman (percussion). Producer: Richard Bock. Reissue producers: Bob Belden, Dean Pratt. Recorded live at Western Recorders, Hollywood, California on January 3 and April 16 & 17, 1969 and at The Whiskey A Go-Go, Hollywood, California on June 22, 1969.
Originally released on Pacific Jazz (20158). Includes liner notes by Dean Pratt. All tracks have been digitally remastered.
Click –-> Official site
01. Soul Lady
02. St. Petersburg Race
03. Soul Kitchen
04. Wonderbag
05. Ruth
06. Love And Peace
07. Hello, I Love You
08. Comin' Home Baby
09. The Meaning Of The Blues
10. Greensleeves
11. Mexicali Nose
12. Buddy Buddy
13. Acid Truth
14. Parthenia
15. Street Kiddie
16. The Word
17. It's Crazy
169 Mb
http://fileho.com/download/7a9...dy-saoule-gal-mu-chet.rar.html
No Pass
By 1969, Buddy Rich was fully into his rock & roll mode, working his band through arrangements of pop songs of the day and rock or funk originals by the best writers and arrangers in the business. Recorded live in Hollywood at Western Recorders and the infamous Whiskey A Go-Go, BUDDY AND SOUL represents a high spot in this period of Rich`s storied career. To be sure, Rich was a dyed-in-the-wool swing drummer, but he could still drive a rocking beat with the best of them while pushing his enormous band to its limits. The Rich band of this period spotlighted many names that were or would become highly respected members of the world jazz stage. Featured here are such stellar players as trumpeter Sal Marquez, saxophonists Ernie Watts, Don Menza and Pat LaBarbara, and guitarist Herb Ellis. It`s the style of music, however, that will draw the most attention as complex arrangements of the Doors` "Soul Kitchen" and "Hello, I Love You" and a psychedelic "Greensleeves" will surely perk up the ears of most fans of Buddy`s work. Also present is the work of many respected composers/arrangers including Don Sebesky, Bill Holman and Don Piestrup.