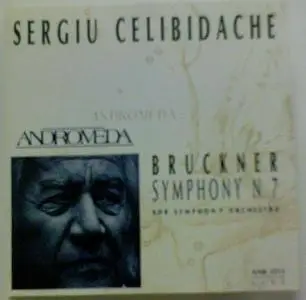 Bruckner Symphony No. 7 - Celibidache/Stuttgart Radio Symphony Orchestra (1971)
Classical | MP3 | Stereo| 192 Kbps | 90Mb
Awesome performance by Sergiu Celibidache, audio is probably transferred to CD from radio recordings. Unfortunately, not much else is known about the recording.
Information
Bruckner Symphony No. 7 in E Major
1885 (aka 1883) alleged original version Ed. Robert Haas [1944] (without percussion)
Performers: S. Celibidache / Stuttgart Radio Sym (live)
8/6/71 (Liederhalle)
Track Listing
I Allegro moderato 21:09
II Adagio (Sehr feierlich und sehr langsam) 23:54
III Scherzo (Sehr schnell) 9:48
IV Finale (Bewegt, doch nicht schnell) 12:00
This CD rip was made from Andromeda ANR 2513 (which itself is poorly produced. The cover says SDR Symphony Orchestra, but the back cover and sleeve say Vienna Philharmonic. Research has shown that no Celibidache recording of the 7th with the VPO exists – yet). The Andromeda CD was released in 1990.
I also apologise for the poor image of the cover. I don't have a scanner, so I used my mobile phone.
Download
May I request no mirrors, please?