Charles-Marie Widor - Symphonie No. 5 - Simon Preston, Organ - Deutsche Grammophon - 1984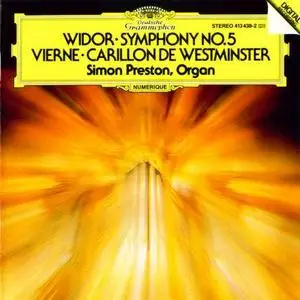 Charles-Marie Widor
Though Charles-Marie Widor was an active composer in many musical fields - he wrote several stage works, including a successful opera Les Pecheurs de Saint-Jean, symphonies, a piano concerto and a violin concerto - he is now remembered almost entirely for his contribution to the organ repertory. It is difficult to overestimate the influence he had on a generation and more of French organists, and he virtually created the form of the 'organ symphony": the only predecessor was Cesar Franck's Grand Piece Symphonique. The use of the word 'symphony' in this context refers not to symphonic form but rather to the deployment of the organ's full range of lavish colouristic devices. It is important to remember that most of Widor's works, and indeed those of many of the French school of organ music that he inspired, were conceived with a particular organ sound in mind: in Widor's case, that of the magnificent five-manual Cavaille-Coll instrument which he played at the church of St-Sulpice in Paris. Widor's ten organ symphonies show an interesting progression from virtuosic, demonstrative works to rather more subdued, meditative pieces. The Fifth Symphony has been among the most popular, perhaps because, standing at the mid-point, it combines the two characters. The first four were published as op. 13 in 1876; the Fifth appeared as the first of the next set of four, op. 42, around 1880. (The last two. published separately, were called Symphonic Gothique and Symphonie Romaine.)

The splendidly assertive theme of the first movement, in F minor, provides the basis for a set of variations: there is a grand central section in D minor before the movement traces its way back through G minor and B flat minor/major to F minor for a final restatement. The second movement places a solo for the oboe stop against a quiet background of flutes: in a central section the texture becomes even quieter as the accompaniment is given to the voix celeste. The third movement is in triple-time; it starts out like a passacaglia with a theme in the pedals (Widor was an important editor of Bach's organ music and would have known his C minor Passacaglia). but the treatment rapidly becomes much freer and more rhapsodic. After this A flat major movement, there is a luminous C major Adagio, full of quasi-Baroque part-writing (though often placed over tonic pedals and including delicious chromatic shifts}, and the Symphony ends with the now-famous Toccata. This is a brilliantly decorated chord sequence, to which is added a pedal line that strides to and fro across two octaves.
Simon Preston - the Performer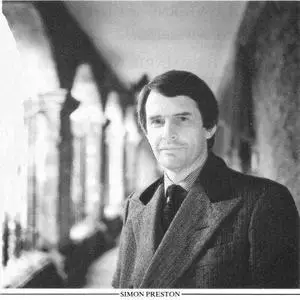 Louis Vierne
Louis Vierne was Widor's most important pupil and succeeded him as organist of St-Sulpice; in 1900 he became organist at Notre-Dame. He published four volumes of Pieces de Fantaisie in 1926-7. and the character piece Carillon de Westminster comes from the third of those suites. It is dedicated to 'mon ami Henry Willis, Facteur d'orgues a Londres", and it is based on the chimes of Big Ben — which sound a few yards away from Westminster Abbey where Simon Preston recorded this performance. Oddly, Vierne uses the quarter-hour chimes in a different order, presumably to give a better musical line. From a quiet, hazy beginning, their sound grows to a triumphant pealing.
Track list can be seen on this image: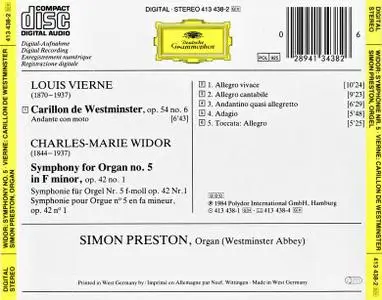 The album is split in 3x50 MB and 1x3 MB parts. Click
HERE
to get the archive with the download links. Password for everything is
www.AvaxHome.ru
. Files are on Rapidshare and I don't want them mirrored elsewhere for the time being.
Comments are always welcome here or by PM!