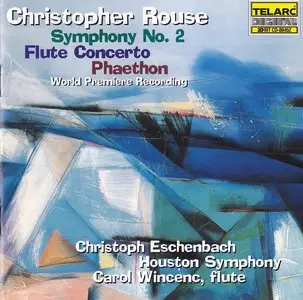 Christopher Rouse: Symphony No. 2; Flute Concerto; Phaethon (1997)
Contemporary Classical | Telarc | 1997 | 65:29 | EAC (FLAC, cue, no log) | Booklet | 284 MB
Carol Wincenc (flute), Houston Symphony, Christoph Eschenbach, conductor
Much of the character of this piece [Symphony No. 2] lies in its propulsive rhythm: coiled, light but a bit cagey in the first movement, more obvious and sometimes ominous in the last. Rouse brings the piece to an electrifying conclusion with a percussion-dominated outburst that has all the visceral, kinetic energy of the drum-dominated peak of a rock concert.

Charles Ward, Houston Chronicle
"The five-movement Flute Concerto...is in part a Gaelic reverie dedicated to the composer's wife but it also embodies a response to one of those "isolated, individual tragedies which serve to sensitize us to the potential harm that man can do to his fellow." ... The composer has cited the work of the Irish singer Enya in connection with this concerto and it is certainly among the more accessible of his works: there's more clear diatonicism than rabid dissonance and plenty of quietly cathartic spiritual affirmation."
David S. Gutman, Gramophone
Track List:
Symphony No. 2 (1994) [26:52]
Flute Concerto (1993) [31:15]
Phaethon (1986) [8:00]
Read more about Christopher Rouse
here
.
Download Links:
Part 1
Part 2
5766crs2
3% recovery record included
Christopher Rouse - Transfiguration (2009)
Christopher Rouse: Iscariot, Clarinet Concerto, Symphony No. 1 (2008)
More contemporary American and European music is available at my
blog
.