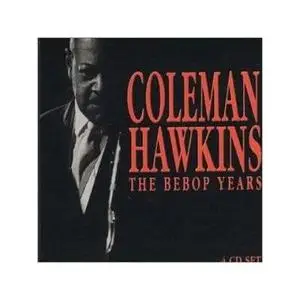 Coleman Hawkins - The Bebop Years
Genre: Jazz | MP3 | 320 Kbps | Release: 2000 | 4 CD Set | ~ 506 Mb | Covers included
This is a magnificent collection of the 1940's work of tenor sax great
Coleman Hawkins
, the father of the jazz saxophone. Much of it has been previously released in bits and pieces, but it has never been collected in a single package, and never with such tremendous sound. This box-set focuses on Hawkins' work between 1939 and 1949, presenting the original master of the tenor sax in a wide variety of settings. 88 tracks in all. 2000 release.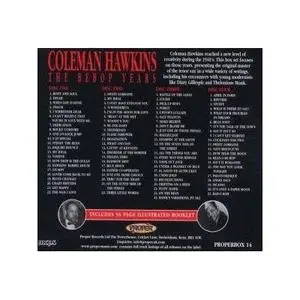 The title of this set is a little misleading; these recordings are more swing than bebop. Nevertheless, this is a wonderful collection that every jazz fan should own. Too often overlooked at the start of the 21st century, Coleman Hawkins was one of the titans of jazz, and this is his finest work. Most of the selections date from 1943 to 1947 and were recorded for several record labels, including Victor, Bluebird, Okeh, Brunswick, V-Disc, Commodore, Signature, Keynote, Apollo, Savoy, Clef, Regis, Capitol, Aladdin, Joe Davis, and Selmer. Proper Records, an English label, has done a terrific job of compiling the work of an under-appreciated genius and deserves much praise.
Hawkins reached a new level of creativity during the 1940's and this box-set presents the grand-master of the tenor sax in the company of such notable jazz greats as Roy Eldridge, Benny Carter, Cootie Williams, Count Basie, Art Tatum, Oscar Pettiford, Teddy Wilson, Dizzy Gillespie, Budd Johnson, Ben Webster, Earl Hines, Don Byas, John Kirby, Jonah Jones, Buck Clayton, Thelonious Monk, Howard McGhee, Milt Jackson, Hank Jones, Harry Carney and Miles Davis.
Hawkins began his performing career as a teenager, backing blues singer Mamie Smith in the early 1920's. Before Hawkins, the saxophone was not a major instrument in jazz, and it was seldom featured as a solo instrument. When Hawkins joined Fletcher Henderson and His Orchestra in 1924, that began to change. Perhaps inspired by fellow bandmember Louis Armstrong, who spent about a year with Henderson, Hawkins quickly developed his own distinctive style as a soloist. When Armstrong left, Coleman Hawkins became the dominant soloist with the Henderson band, a position he held until 1934. He set the standard for the jazz saxophonist during the first part of the Swing era, and he strongly influenced such other figures as Ben Webster, Benny Carter, Chu Berry and many others. After a productive five-year stay in Europe, Hawkins returned to the U.S. and started his own group in 1939. One of his first records was the ballad "Body and Soul," which became a major pop hit and remains one of the most memorable recordings in jazz history. It set a standard for jazz improvisation that has seldom been matched.
"Body and Soul" first song in this boxed set, and really doesn't belong with the other recordings here, which cover the period 1943-1947. Hawkins' big band failed within a year, and he soon began working with the smaller groups that make up the bulk of these recordings. He worked for a series of small New York-based record companies, both as a leader and a sideman. During this period, the bebop movement began to make inroads into the New York jazz scene. Hawkins was as skilled and schooled as any musician in jazz, and he quickly grasped the innovative ideas that the beboppers were offering in their music. Even though he never fully embraced bebop in his own playing, he often worked with its rising young stars, such as Thelonious Monk, Miles Davis, Howard McGhee, Fats Navarro and others. Working with these new talents reinvigorated the middle-aged Hawkins, and these are some of the finest recordings of his long career. He also influenced a new generation of saxophonists such as Dexter Gordon and Sonny Rollins.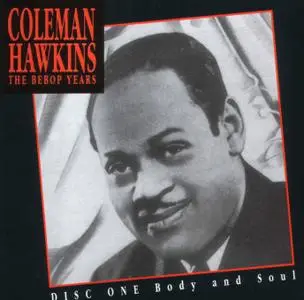 CD 1 - Body and Soul
01. Body and Soul
02. Dinah
03. When Day Is Done
04. Smack
05. I Surrender Dear
06. I Can't Believe That You're In Love With Me
07. Dedication
08. Rocky Comfort
09. One O'Clock Jump
10. 9-20 Special
11. Feedin' The Bean
12. Esquire Bounce
13. My Ideal
14. Voodte
15. How Deep Is The Ocean
16. Hawkins' Barrel House
17. Stumpy
18. Lover Come Back To Me
19. Blues Changes
20. Crazy Rhythm
21. Get Happy
22. The Man I Love
http://rapidshare.de/files/21970533/coleha_2.1.part1.rar.html
http://rapidshare.de/files/21970918/coleha_2.1.part2.rar.html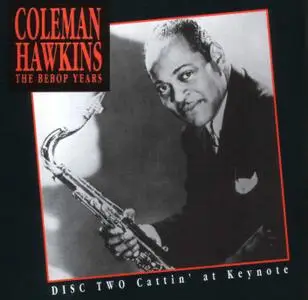 CD 2 - Cattin' at Keynote
01. Sweet Lorraine
02. My Ideal
03. I Only Have Eyes For You
04. 's Wonderful
05. I'm In The Mood For Love
06. Bean At The Met
07. Woody'n You
08. Bu-Dee-Daht
09. Yesterdays
10. Flame Thrower
11. Imagination
12. Night And Day
13. Cattin' At The Keynote
14. Disorder At The Border
15. Feeling Zero
16. Rainbow Mist
17. Blue Moon
18. Father Cooperates
19. Just One More Chance
20. Thru For The Night
21. On The Sunny Side Of The Street
22. Three Little Words
http://rapidshare.de/files/22000186/coleha2.2.part1.rar.html
http://rapidshare.de/files/22001954/coleha2.2.part2.rar.html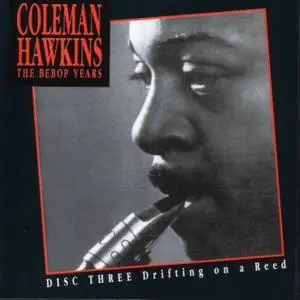 CD 3 - Drifting on a Reed
01. Battle of the saxes
02. Louise
03. Pickup Boys
04. Porgy
05. Uptown Lullaby
06. Salt peanuts
07. Make believe
08. Don't blame me
09. Just one of those things
10. Hallelujah
11. Stompin' at the Savoy
12. On the sunny side of the street
13. All the things you are
14. Every man for himself
15. Look out Jack
16. Under a blanket of blue
17. El salon de Gutbucket
18. Undecided
19. Recollections
20. Drifting on a reed
21. Flyin' Hawk
22. On the bean
23. Hawk's Variations Part 1 & 2
http://rapidshare.de/files/22019088/coleha2.3.part1.rar.html
http://rapidshare.de/files/22020344/coleha2.3.part2.rar.html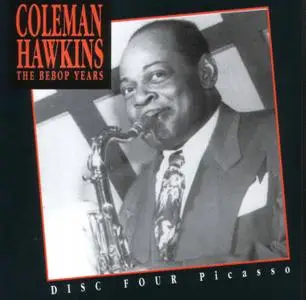 CD 4 - Picasso
01. April In Paris
02. Rifftide
03. Stuffy
04. What Is There To Say
05. Wrap Your Troubles In Dreams
06. Bean Soup
07. Its The Talk Of The Town
08. Say It Isn't So
09. I Can't Get Started
10. CockTails For Two
11. Sweet Lorraine
12. Nat Meets June
13. How High The Moon
14. Bean-A Re-Bop
15. Isn't It Romantic
16. The Way You Look Tonight
17. Phantomesque
18. Angel Face
19. Picasso
20. It's Only A Paper Moon
21. Bah-U-Bah
http://rapidshare.de/files/22024654/coleha2.4.part1.rar.html
http://rapidshare.de/files/22040350/coleha2.4.part2.rar.html
Enjoy!