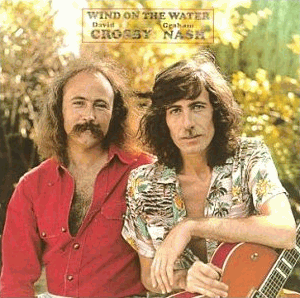 Artist:
David Crosby & Graham Nash
Title:
Wind On The Water
Label:
MCA Records
Genre:
Rock
Released:
September 15, 1975
Format:
MP3
Bitrate:
256 kBit/s
Size: 80.85 MB (incl. 5% Recovery record)
From Wikipedia, the free encyclopedia:
Their second album as a duo, and their first album for ABC Records, Wind on the Water surprised many listeners with its heavier rock numbers and its trenchant lyrics about aging and death. Crosby and Nash were in their thirties and approaching middle age, and events in personal lives, such as the death of Crosby's mother (which "Carry Me") was partially written about) also affected their songwriting.

Wind on the Water is considered an "adult rock" album by many critics, many of them suggesting that it reflects the more mature outlook of two men who are more traveled and more seasoned than younger performers.
Personnel
* David Crosby - guitar, vocals
* Graham Nash - guitar, vocals, keyboards
* Danny Kortchmar - bass, guitar
* David Lindley - violin, guitar
* Craig Doerge - keyboards
* Joel Bernstein - guitar
* Ben Keith - guitar
* Russell Kunkel = drums
* Stan Szeleste - keyboards
* Levon Helm - drums
* James Taylor - background vocals
* Carole King - background vocals
* Jackson Browne = background vocals
Producer(s):
David Crosby, Graham Nash, Stephen Barncard
Tracklist:
01 - Carry Me
02 - Mama Lion
03 - Bittersweet
04 - Take The Money And Run
05 - Naked In The Rain
06 - Love Work Out
07 - Low Down Payment
08 - Cowboy Of Dreams
09 - Homeward Through The Haze
10 - Fieldworker
11 - To The Last Whale: Critical Mass/Wind On The Water
Download