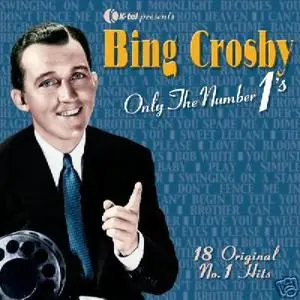 Bing Crosby - Only The Number 1's (2005)
Style: Vocal
Date: February 1, 2005
mp3 (192 kbps) - 71,9 Mb - no covers
Crosby was one of the biggest music and movie stars of the mid-20th century. He started out as a member of the Rhythm Boys, a jazz vocal trio, before going solo in the early 1930s. He quickly became a radio star, a silky-smooth crooner who could sing both pop and jazz. As such he is often credited with inspiring Frank Sinatra and other modern pop singers. (Crosby's languid improvisation, "buh-buh-buh-boooo," was widely parodied.) Crosby also became a film star, winning an Oscar for his portrayal of a good-natured priest in the 1944 movie Going My Way.
Crosby first sang the tune "White Christmas" in the movie Holiday Inn (1942); his recording of the tune remains a holiday favorite, and for many years was the biggest-selling single of all time. In the 1960s and '70s his annual Christmas special was a popular TV fixture. He died in 1977 on a golf course in Spain, having just completed the 18th hole.
Tracks:
01 Swinging on a Star
02 Moonlight Becomes You
03 Don't Fence Me In
04 Pennies from Heaven
05 I Can't Begin to Tell You
06 Alexander's Ragtime Band
07 Brother, Can You Spare a Dime
08 Only Forever
09 I Love You
10 Sweet Leilani
11 The Moon Got in My Eyes
12 Please
13 Love in Bloom
14 Sunday, Monday or Always
15 Bob White (Whatcha Gonna Swing Tonight?)
16 You Must Have Beena Beautiful Baby
17 Play a Simple Melody
18 Now Is the Hour (Maori Farewell Song)
Download-Link:
http://rapidshare.de/files/20136645/1_s.rar.html
(71,9 Mb)
non password
Thank you.
To be continued…