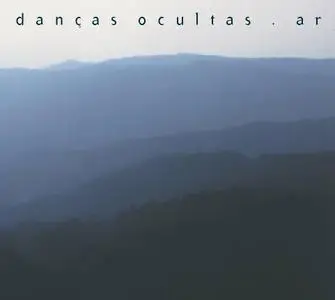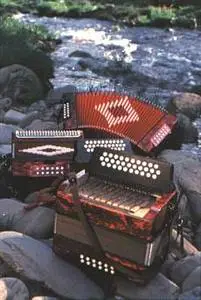 Música feita com concertinas.
Music made with "concertinas" (diatonic accordion).
Danças Ocultas "ar"
Full album - MP3
Label: EMI; 7243 4 95172 2 6; 1998; Playing time: 48.27min
Danças Ocultas has a quite unusual line up: all four musicians just play the diatonic accordeon (this instrument is called in Portugal, where they come from, Concertina - so if you get the chance to see them live, they might be announced as four concertina players…). Their music is exceptional - I had the great opportunity to see them live at Tilburg International Festival in january 2001, as soon as I entered the hall where they where playing, I was immediately stuck by their music. Their interaction is very intense - and they had no problems to show this on CD.
The music they are playing on this album is all written and arranged by members of the band - they often do play together, but they leave the space for solos of the musicians. For more information on this great Portugues band, read the interview in this issue!
in
http://www.folkworld.de/19/e/cds1.html
Danças Ocultas é o nome de um grupo musical português constituído por Artur Fernandes, Filipe Cal, Filipe Ricardo e Francisco Miguel. Danças Ocultas é a aceitação mútua do desafio de explorar, imaginar e conceber novas linguagens musicais, transformando o mundo pelo som e desenvolvendo todas as possibilidades da máquina inventada no século XIX - o acordeão diatónico, em Portugal conhecido como concertina.
in
http://pt.wikipedia.org/wiki/Dan%C3%A7as_Ocultas
http://dancasocultas.com/
http://dancasocultas.weblog.com.pt/
Download from Rapidshare:
http://rapidshare.de/files/14991630/DO.rar
64.38 MB
Enjoy