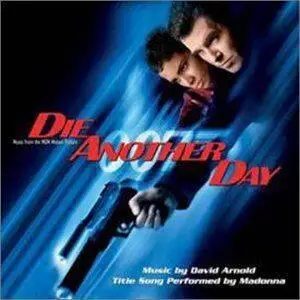 David Arnold - Die Another Day OST
MP3 160 Kbps | 2002 | Label: Warner Bros | 55:02 min | 64 MB
Genre: Soundtrack
Returning for his third film, composer David Arnold graces the sonic landscape with his unique mixture of traditional John Barry inspired orchestrations with modern techno rhythms. If you're a Bond fan, you'll do well to pick this one up.
Tracklist:
1. Die Another Day (Performed by Madonna)
2. James Bond Theme (Bond vs. Oakenfold) (Performed by Paul Oakenfold)
3. On The Beach
4. Hovercraft Chase
5. Some King Of Hero?
6. Welcome To Cuba
7. Jinx Jordan
8. Jinx & James
9. A Touch Of Frost
10. Icarus
11. Laser Fight
12. Whiteout
13. Iced Inc.
14. Antonov
15. Going Down Together
Die Another Day OST on Rapidshare
password:
Jinx
There is also a very rare promo version of the complete score written for the movie, kindly uploaded for us by Chepa. Just a warning though, because it's a promo and not a commercial version, the quality in some tracks isn't the best. You can read about the promo version
here
.
Die Another Day complete promo version CD1 on Rapidshare
Die Another Day complete promo version CD2 on Rapidshare