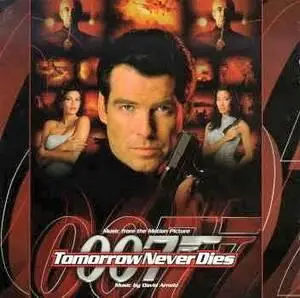 David Arnold - Tomorrow Never Dies OST
MP3 160 Kbps | 1997 | Label: A&M Records | 53:59 min | 63 MB
Genre: Soundtrack
After a devastatingly disappointing score by Eric Serra for Goldeneye a few years ago, David Arnold follows with an excellent tribute to the entire series of Bond scores. By the third track of Arnold's score for Tomorrow Never Dies, you won't even remember that Goldeneye exists. The score itself occupies eleven of the fifteen tracks and makes very generous use of the original Bond Theme by Monty Norman and John Barry. Arnold did his homework with Tomorrow Never Dies –the Bond Theme is integrated very well into almost every track, which, in my belief, is the way Bond scores should be. A masterful use of brass and electric guitar bring back memories of the glory days in Bond scores.
Tracklist:
1. Tomorrow Never Dies (Performed by Sheryl Crow)
2. White Knight
3. The Sinking of the Devonshire
4. Company Car
5. Station Break
6. Paris and Bond
7. The Last Goodbye
8. Hamburg Beak In
9. Hamburg Break Out
10. Doctor Kaufman
11. *-3-Send
12. Underwater Discovery
13. Backseat Driver
14. Surrender (Performed by k. d. lang)
15. James Bond Theme (Performed by Moby)
I'm aware that an expanded version of the TND soundtrack exists, without the songs but with 30 extra minutes of music and an audio interview by David Arnold. Unfortunately, I haven't been able to get my hands on that CD. If anyone happens to have it, it would be delightful if he could upload it : )
Tomorrow Never Dies OST on Rapidshare
You are welcome to download From OxyShare:
http://www.oxyshare.com/get/14...04b70.37198709/DA-TND.rar.html
password:
BMW 750i
And here is the expanded version, thanks to Chepa:
Tomorrow Never Dies OST (Expanded) on Rapidshare
Take note that the file doesn't include all the tracks, only the new ones. So if anyone wants to create the Expanded version CD, he will have to mix the files from the original version with the ones from the expanded version.