David Gilmour - In Floyd We Trust! (1984)
[size=16]
David Gilmour - In Floyd We Trust! (1984) (Live)
[/size]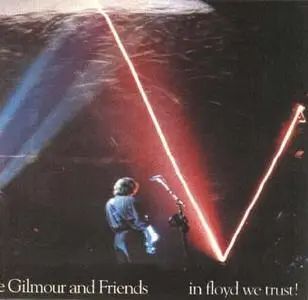 David Gilmour and Friends: In Floyd We Trust!
12 Jul 1984, Allentown Stadium Arena, Allentown Pennsylvania.
The sound is excellent, it has to be taken right from the console. This recording was probably taken from the soundboard. Excellent quality, great performance. This is the complete radio broadcast of the concert. One of the best versions of Money that I have ever heard.
Band:
David Gilmour -guitars, vocals
Mick Ralphs - gutar, vocals*
Chris Slade - drums*
Raphael Ravenscroft - saxophone*
Mickey Feat - bass, vocals*
Gregg Dechart - keyboards*
Sue Addams - percussion, vocals*
01 - Until We Sleep
02 - All Lovers Are Deranged
03 - Money
04 - Love On The Air
05 - Short And Sweet
06 - You Know I'm Right
07 - Run Like Hell
08 - Blue Light
09 - Introductions
10 - Comfortabley Numb
mp3 @ 192 kbps | 105 MB total
http://rapidshare.de/files/16302841/DG_IFWT_1984.part1.rar
http://rapidshare.de/files/16306067/DG_IFWT_1984.part2.rar
http://rapidshare.de/files/16308521/DG_IFWT_1984.part3.rar
Password:aglihp