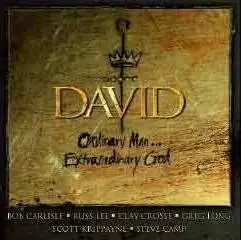 hxxp://rapidshare.de/files/23750286/78554.rar
pass:Bible.Org
You are welcome to download From OxyShare:
http://www.oxyshare.com/get/746709047449beb7aead634.21194787/78554.rar.html
Description
: David: Ordinary Man . . . Extraordinary God, is an intimate, yet profound musical portrayal from the heart of the most intriguing character of ancient times. His story offers hope for all of us - dysfunctional family, tragic loss of his closest friend, discharged and hunted like a wild animal, admired war hero, powerful leader, adulterer, murderer, betrayed by his own son, homeless, and yet a man after God's own heart!
David brings together a group of Christian music's best-loved male vocalists including Greg Long, Clay Crosse, Bob Carlisle, Scott Krippayne, Russ Lee and Steve Camp.
Audio clips from this product are available to listen to before you purchase - just click on the Play Track link next to the track title or click on the track name to play the clip.
David: Ordinary Man . . . Extraordinary God Lyrics
1. Extraordinary God Various
2. The Heart Of You (Psalm 15) Greg Long
3. Twenty-Three (Psalm 23) Scott Krippayne
4. Deliver Me (Psalm 59) Bob Carlisle
5. When I Am Afraid (Psalm 56) Clay Crosse
6. The Lord Is My Rock (Psalm 18) Steve Camp
7. I Cannot Hide From You… Greg Long
8. Purify Me (Psalm 51) Clay Crosse
9. Satisfied In You (Psalm 63) Russ Lee
10. Sing To The Lord (Psalm 30)
Product Details
* Audio CD (July 22, 2003)
* Original Release Date: 2003
* Number of Discs: 1
* Format: Enhanced
* Label: Butterfly (Navarre)
* ASIN: B0000A0DU5
* Size: 92.9 MB