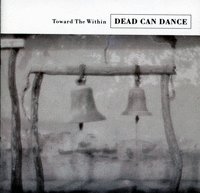 Dead Can Dance - Toward the Within (1994)
mp3 | 320 kbps | EAC+Lame | 155 MB | gothic rock/ethereal
…Recorded at a Los Angeles performance from the Into the Labyrinth tour, the astounding Toward the Within shows that the band's magic was clearly not simply something created in studio. Both lead performers are simply in excelsis, their vocal abilities hardly diminished by the rigors of the road – if anything, they sound even more inspired as a result….
Released: October 1994
Genre: Rock
Length: 67:56
Label: 4AD
Track listing
1. "Rakim"
2. "Persian Love Song"
3. "Desert Song"
4. "Yulunga (Spirit Dance)"
5. "Piece for Solo Flute"
6. "The Wind That Shakes the Barley"
7. "I Am Stretched on Your Grave"
8. "I Can See Now"
9. "American Dreaming"
10. "Cantara"
11. "Oman"
12. "The Song of the Sybil"
13. "Tristan"
14. "Sanvean"
15. "Don't Fade Away"
Part 1
Part 2
Password:
www.AvaxHome.ru
Rapidget:
http://rapidshare.de/files/25822854/DCD-TTW.part1.rar.html
http://rapidshare.de/files/25814235/DCD-TTW.part2.rar.html