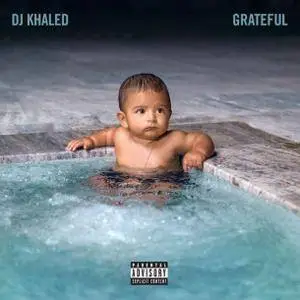 DJ Khaled – Grateful (2017)
MP3 CBR 320 kbps | 87:25 minutes | 204 MB
Rap, Hip-Hop | Label: Epic/We The Best
Since the top of the year, DJ Khaled has been raving bout his tenth album Grateful. Despite keeping the details "top secret," Khaled has flooded social media with a few major keys regarding his latest effort. Immediately after the Grammys in February, Khaled handed fans his lustrous single "Shining" featuring Jay Z and Beyonce. The Snapchat impresario then secured even more vocals from music's biggest stars. With his six-month-old son Asahd Khaled helping him on the musical front as an executive producer, Khaled is showing his followers #FanLuv with for his star-studded album. Here's everything we know so far about Grateful.
TRACKLIST
1 (Intro) I'm So Grateful feat. Sizzla
2 Shining feat. Beyoncé & JAY Z
3 To the Max
4 Wild Thoughts feat. Rihanna & Bryson Tiller
5 I'm the One feat. Justin Bieber, Quavo, Chance the Rapper & Lil Wayne
6 On Everything feat. Travis Scott, Rick Ross & Big Sean
7 It's Secured feat. Nas & Travis Scott
8 Interlude (Halleujah) feat. Betty Wright
9 Nobody feat. Alicia Keys & Nicki Minaj
10 I Love You So Much feat. Chance the Rapper
11 Don't Quit feat. Calvin Harris, Travis Scott & Jeremih
12 I Can't Even Lie feat. Future & Nicki Minaj
13 Down for Life feat. PARTYNEXTDOOR, Future, Travis Scott, Rick Ross & Kodak Black
14 Major Bag Alert feat. Migos
15 Good Man feat. Pusha T & Jadakiss
16 Billy Ocean feat. Fat Joe & Raekwon
17 Pull a Caper feat. Kodak Black, Gucci Mane & Rick Ross
18 That Range Rover Came With Steps feat. Future & Yo Gotti
19 Iced Out My Arms feat. Future, Migos, 21 Savage & T.I.
20 Whatever feat. Future, Young Thug, Rick Ross & 2 Chainz
21 Interlude feat. . Belly
22 Unchanging Love Feat. Mavado
23 Asahd Talk (Thank You Asahd)