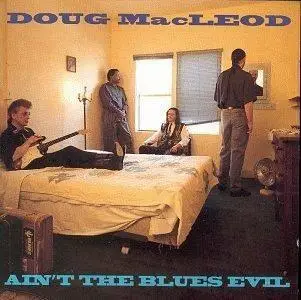 Artist:
Doug MacLeod
Title:
Ain't The Blues Evil
Label:
Volt
Genre:
Blues
Released:
Jun 14, 1991
Format:
MP3
Bitrate:
VBR, avg 168 kBit/s
Size: 74.9 MB (incl. 5% Recovery record)
Unlike some other bluesmen now leading their own bands, guitarist and singer/songwriter Doug MacLeod spent many years as an apprentice before forming his own band. MacLeod has worked as a sideman for many different artists from the Los Angeles-area blues scene, including Big Joe Turner, Charles Brown, Pee Wee Crayton, Eddie "Cleanhead" Vinson, and George "Harmonica" Smith. MacLeod was born in New York on April 21, 1946, and his parents moved to St. Louis shortly after his birth. He spent his teen years frequenting the blues clubs there, learning from people like Albert King, Little Milton, and and IkeTina Turner. He took up the bass in his teens and played around St. Louis with local bands before enlisting in the Navy. MacLeod was stationed in Norfolk, VA, and spent his off-duty time playing in blues bars. He eventually settled in Los Angeles, accompanying many other blues performers before forming his own band. His songs have been recorded by Albert King, Albert Collins, and Son Seals. MacLeod's 1984 album, No Road Back Home, was nominated for a W.C. Handy Award in 1984 and has since been reissued on compact disc on the Hightone label. MacLeod has widely available albums on Audioquest – Come to Find (1994), You Can't Take My Blues (1996), Unmarked Road (1997), and Whose Truth, Whose Lies? (2000). His first Audioquest disc features guest appearances by harmonica players Carey Bell and fiddle player Heather Hardy, while the second has a guest appearance by harp player George "Harmonica" Smith. MacLeod has also recorded for a variety of independent labels, including such albums as Woman in the Street, 54th and Vermont, and Ain't the Blues Evil. 2002 saw the release of MacLeod's A Little Sin, recorded in July of that year with producer/frequent collaborator Joe Harley.
by Richard Skelly and Al Campbell
Tracklist:
01 - Don't Point Your Finger
02 - Ain't The Blues Evil
03 - Placquemine
04 - Lone Wolf
05 - Love Is A Hurtin' Thing
06 - Just Like A Minstrel
07 - One Fool Lookin' For Another
08 - High Priced Woman
09 - Too Little Too Late
10 - (I Think You're) Steppin' Out On Me
11 - Somewhere, Somehow, Someway
12 - S.R.V (For Steve Ray)
13 - Cold Rain
Download