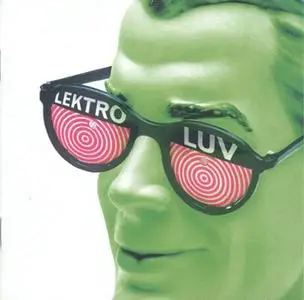 Dr. Lektroluv "An Elektion Of Elektrifying Elektro Pop" | 2002 | Genre: Elektro Pop / Synthpop / Electroclash

MP3 | VBR 192-320 Kbit/s 44100Hz Joint-Stereo| 67:53 | 125 MB

Tracklist
01. Dopplereffekt / Plastiphilia 2 (Re-Edit) [0:02:09.52]
02. Bolz Bolz / Take A Walk (Neo-Romantic Dima Mix) [0:04:06.63]
03. FPU / Ocean Drive (Tiga's White Linen Song) [0:04:47.36]
04. Felix Da Housecat / Madame Hollywood (Album Version) [0:02:48.08]
05. Toktok Vs Soffy / Missy Queen Is Gonna Die [0:04:00.03]
06. Ural 13 Diktators / Disko Kings [0:04:23.61]
07. Ladytron / Playgirl (Felix Da Housecat Glitz Clubhead Mix) [0:05:14.46]
08. Dakar & Grinser / I Wanna Be Your Dog [0:05:03.21]
09. I-F / Space Invaders Are Smoking Grass [0:05:51.25]
10. Fischerspooner / Emerge (Album Version) [0:04:44.29]
11. Manuel Mind And Valentino Tomasi / Strange Sounds (Robot Mix) [0:06:17.74]
12. Miss Kittin And The Hacker / Frank Sinatra [0:03:50.42]
13. Louie Austen Feat. Peaches / Grab My Shaft (Edit) [0:04:02.22]
14. Mitsu / Hush (Edit) [0:03:52.51]
15. Jeans Team / Keine Melodien [0:02:16.19]
16. Hell / Warm Leatherette [0:04:30.14]
Lektroluv: An Elektion Of Elektrifying Elektro Pop


When Felix Da Housecat's masterpiece album I Know Electrikboy failed to gain a UK release in 1999, few predicted its 80s inspired selection of tuneful, melancholic songs would kick-start a movement, though 3 years on, Felix's vision is the most fashionable sound in London clubland. Sleazy, song based and surprisingly accessible, the new electro has found favour with both fashion victims and followers, with considerable support from former techno pioneer DJ Hell, whose Gigolo Records also dominates the genre.

Dr Lektroluv is a rising star DJ of the scene and here he mixes together some of the key current tracks with some interesting and unusual oddities. DJ Tiga's version of Jan Hammer's Ocean Drive (dedicated to the surprisingly naff Miami beach strip Ocean Drive) rubs shoulders with Dakar & Grinser's even more unusual rendition of Iggy Pop's classic rocker I Wanna Be Your Dog. Elektro standards including Felix Da Housecat's Madame Hollywood, Fischerspooner's Emerge and Miss Kittin & The Hacker's Frank Sinatra are also included, on a compilation that's a superb introduction to elektro pop in 2002.
You can listen to samples
here
Всемирно известный бельгийский ди-джей, работающий в жанре electroclash и synthpop. Отличный альбом для любителей небанальной электроники в ретро ключе.
Скачиваем с
RapidShare.de
Tracks 1-8 (57 MB)
Tracks 9-16 (65 MB)
И с
StoreAndServe.com
(press Download button on first screen then scroll down the second page to see the download link)
Tracks 1-8 (57 MB)
Tracks 9-16 (65 MB)
Все файлы независимы (можно их качать и распаковывать по отдельности, с разных серверов) и содержат запись для восстановления / All files are independent (so you can download and unpack them separately, from different servers) and have recovery record to repair if broken
Пароль / Password:
www.AvaxHome.ru