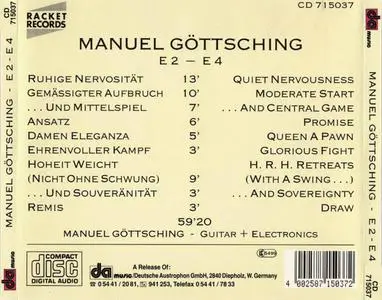 Manuel Gottsching - E2 E4 (1981, Release 1984)
Electronic | MP3 320 Kbps | 85,8 + 22 Mb
Somehow enduring the more conservative musical landscapes of the 1980's, Ashra re-emerged in 1984 with the proto-techno masterpiece E2-E4 which forever placed Gottsching among the innovators of the musical aesthetic later dubbed electronica. E2-E4 remains a seminal building block in the subsequent development of styles ranging from techno to house to contemporary ambient music.
E2 E4 Suite:
1. Quiet Nervousness
2. Moderate Start
3. And Central Game
4. Promise
5. Queen a Pawn
6. Glorious Fight
7. H.R.H. Retreats (With a Swing)
8. And Sovereignty
9. Draw
Relax and Enjoy !!!