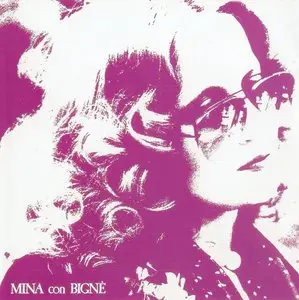 Mina - Mina con bignè (1977)
EAC Rip | FLAC(image) + CUE + LOG | 310 Mb + 3% recovery
1CD | 12 Tracks | 00:46:19 | Full scans
Genre: Pop, Folk | Label: PDU | EAN: 0724353544928
La primissima tiratura ha la caratteristica di avere la copertina stampata sul rovescio del cartoncino, quindi sulla parte non rifinita; risulta ruvida al tatto e il lato lucido, liscio e bianco del cartone è quello all'interno. In quest'edizione il colore della stampa monocroma violetta è nettamente più scuro per il differente ancoraggio del colore sul cartone non rifinito. Successivamente messo in vendita con la copertina stampata sul lato "corretto" del cartoncino, la stampa viola appare più chiara, su fondo grigiastro. Una successiva ristampa ha i colori ancora più chiari ed è quella adoperata anche sulla ristampa in cd. Copertina a busta chiusa, allegato foglio con tutti i testi.
«Nel 1977, anno antecedente all'ultima serie di concerti dal vivo, Mina pubblica come di consueto un doppio album, uno di cover, l'altro di inediti. Mentre per le cover, la grande cantante si affida al repertorio geniale e poco battuto di Enzo Jannacci producendo uno dei dischi più belli della sua carriera, per gli inediti troviamo un cast di autori e arrangiatori davvero eterogeneo…
Il viaggio comincia con Da capo splendida invenzione a firma Cocciante-Luberti, un pezzo che parte solo piano e voce per farsi caricato alla fine, nel tipico e vincente stile del cantautore di Saigon, davvero emozionante. Ci si riprende con una sciocchezzuola, quella Ma che bontà spiritosissima, scritta da Enrico Riccardi, che vede Mina nei panni di una sciura milanese saccente alle prese con la sua ignoranza in fatto di cucina.
Poi due pezzi maliziosi di Malgioglio: Amante amore in puro stile dance '70 e una meno convincente Oroscopo. Si passa poi a una cover, arrangiata dal bravissimo Ferrio Balla chi balla un vero scioglilingua, esaltato dalla bravura di Mina nel rendere a pieno questi brani ricchi di passaggi da note bassissime a note altissime. Una delizia.
Giorni, ennesimo singolo del bravissimo Shel Shapiro, è uno dei vertici dell'album. Agreste e burrosa, Mina si supera in questa composizione dal testo davvero convincente e dalla non meno originale partitura. Da ascolti ripetuti. Con queste premesse si arriva a Ormai una sorta di romanza quasi, ove Mina lancia la sua voce verso note irraggiungibili. Da brivido.
Tradirò, a firma Simon Luca, è l'ennesima conferma dell'eclettismo dell'interprete, un pezzo scatenato e ballabilissimo. Poi un'altra cover, quella Ragazza in due dei Giganti, qui trasformata da Mina in un classico, anche grazie al superlativo arrangiamento di Pino Presti, uno dei più versatili, valenti arrangiatori che Mina abbia mai avuto.
Un'altra perla è la splendida La tua voce dentro l'anima pezzo mistico, anch'esso arrangiato da Pino Presti, in cui Mina si rivolge direttamente a Dio… Anche Il viaggio si conclude con Che lui mi dia cover di Chico Buarque, drammatica e coinvolgente. Arrangiamento di Gianni Ferrio.
Insomma un bellissimo disco, consigliato a chi magari per la prima volta si accosta alla voce miracolo di questa meravigliosa, unica, irrggiungibile interprete, che proprio il 23 agosto di 30 anni fa abbandonava le scene con un ultimo memorabile concerto alla Bussola di Viareggio. Uno strano anniversario, ma in fondo vincente, visto che a 30 anni di distanza ancora siamo qui a parlare di lei e della sua travolgente voce».
English
The very first print run has the characteristic of having a cover printed on the back of the card, and then on non-finished, it is rough to the touch and the glossy, smooth and white cardboard is inside. In this edition the violet color of the monochrome print is much darker for the anchoring of different color on the board not finished. Subsequently sold with the cover printed on the "right" of the card, the press appears lighter purple, gray background. A reprint has the colors even more clear and that is also used on the CD reissue. Cover in a sealed envelope, attached sheet with all texts.
"In 1977, the year before the latest series of live concerts, Mina public as usual a double album, a cover of, the other unpublished. As for the cover, the great singer relies on footage and brilliant little beaten Roger Whittaker producing one of the finest discs of his career, to find a cast of unknown authors and arrangers really diverse …
The journey starts from the head wonderful invention, signed by Cocciante-Lube, a piece that starts just piano and voice to be loaded at the end, in the typical style of the singer and winner of Saigon, really exciting. We are shooting with a trifle, but that the goodness witty, written by Enrico Riccardi, who sees Mina in the role of wiseacre a sciura Milan struggling with his ignorance of the kitchen.
Then two pieces of malicious Malgioglio: Lover love 70s-style dance and a less convincing Horoscope. We then move on to a cover, arranged by the excellent Ferrio Balla dancers a real tongue twister, exalted by the skill of Mina in making these songs full of rich passages from low notes to high notes. A delight.
Now, another single by the very talented Shel Shapiro is one of the top of the album. Rural and buttery, Mina is surpassed in this composition by the least convincing and original score. From repeated plays. With this background we now come to almost a kind of romance, where Mina throws his voice into notes of reach. Thrilling.
Betray, signed by Simon Lucas, is yet another confirmation of eclecticism of the interpreter, and a piece sparked ballabilissimo. Then another cover, this girl in two of the Giants, here transformed from Mina in a classic, thanks to the superb arrangement of Pino Presti, one of the most versatile, talented arrangers that Mina has ever had.
Another gem is the beautiful and your voice in the soul mystical piece, which was also arranged by Pino Presti, where Mina is addressed directly to God .. The trip also ends with what he gives me cover by Chico Buarque, dramatic and engaging. Arrangement by Gianni Ferrio.
In short, a beautiful record, recommended to those who perhaps for the first time approaches the miraculous voice of this wonderful, unique, irrggiungibile interpreter that his August 23 to 30 years ago abandoned the last scene with a memorable concert at the Bussola in Viareggio. A strange anniversary, but after winning, given that 30 years later we are still here to talk about her and her overpowering voice. "
V0.99 prebeta 5 from 4. May 2009
Estrazione file di log EAC da 3. Maggio 2010, 20:02
Mina / Mina con bignè
Unità predefinita: Optiarc DVD RW AD-7240S Adapter: 2 ID: 0
Modalità di lettura: :
: Sì
: No
: No
Correzione offset di lettura: : 48
Sovrascrivi anche nel Lead-In e Lead-Out : No
Riempi sample offset mancanti con silenzio : Sì
Rimuovi blocchi di silezio ad inizio e fine : No
: No
: Interfaccia nativa Win32 per Windows NT & 2000
Formato di destinazione scelto: : Usa Encoder definito da utente
: 1024 kBit/s
: Alta
: No
: C:\Program Files\Exact Audio Copy\FLAC\FLAC.EXE
Opzioni aggiuntive da riga di comando: : -6 -V -T "ARTIST=%a" -T "TITLE=%t" -T "ALBUM=%g" -T "DATE=%y" -T "TRACKNUMBER=%n" -T "GENRE=%m" -T "COMMENT=%e" %s -o %d
| | | |
––––––––––––––––––––––
1 | 0:00.00 | 3:20.07 | 0 | 15006
2 | 3:20.07 | 3:02.25 | 15007 | 28681
3 | 6:22.32 | 4:12.03 | 28682 | 47584
4 | 10:34.35 | 3:47.62 | 47585 | 64671
5 | 14:22.22 | 3:41.43 | 64672 | 81289
6 | 18:03.65 | 4:55.67 | 81290 | 103481
7 | 22:59.57 | 4:11.38 | 103482 | 122344
8 | 27:11.20 | 4:24.60 | 122345 | 142204
9 | 31:36.05 | 3:11.00 | 142205 | 156529
10 | 34:47.05 | 4:47.50 | 156530 | 178104
11 | 39:34.55 | 3:45.50 | 178105 | 195029
12 | 43:20.30 | 2:43.45 | 195030 | 207299
Stato intervallo ed errori
Intervallo selezionato
Nome file C:\User\Mina - Mina con bignè.wav
Livello di picco 94.1 %
Qualità intervallo 100.0 %
Copia CRC A1ADAC7D
Copia corretta
Non sono stati riscontrati errori
Traccia 1
Traccia 2
Traccia 3
Traccia 4
Traccia 5
Traccia 6
Traccia 7
Traccia 8
Traccia 9
Traccia 10
Traccia 11
Traccia 12
Fine del resoconto di stato

Tracce
1. Da capo - 3:20 - (Riccardo Cocciante-Marco Luberti)
2. Ma che bontà - 3:03 - (Enrico Riccardi)
3. Amante amore - 4:13 - (Cristiano Malgioglio-Giuseppe Prestipino)
4. Oroscopo - 3:49 - (Cristiano Malgioglio-Corrado Castellari)
5. Balla chi balla (Bala com bala) - 3:43 - (João Bosco-Giorgio Calabrese)
6. Giorni - 4:58 - (Luigi Albertelli-Shel Shapiro)
7. Ormai - 4:12 - (Andrea Lo Vecchio)
8. Tradirò - 4:25 - (Simon Luca)
9. Una ragazza in due (Down Came the Rain) - 3:12 - (Mitch Murray-Robin Conrad-Leo Chiosso)
10. Señora melancolía - 4:48 - (Willy Morales)
11. La tua voce dentro l'anima - 3:47 - (Mario Nobile)
12. Che lui mi dia (Basta um dia) - 2:41 - (Chico Buarque de Hollanda-Sergio Bardotti)


Folder Link

Folder Link
Password :
crazyPlease DO NOT MIRROR
If you'll find that my links are dead please let me know through the Private Messages.
&g... Blog Here <<<