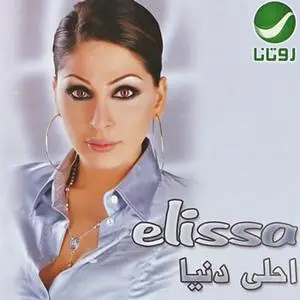 Artist: Elissa
Album: Ahla Dounya
Year: 2004
Playtime: 62:19
Quality: EAC APE/MP3-320Kb
Size: 453Mb/144Mb
RAR. Recovery record 3%

Track List:
CD: Elissa - Ahla Dounya

01. Irjaa Lilshowk [0:05:17.22]
02. Ahla Dounya [0:04:17.53]
03. Koul Youm Fee Oumri [0:05:23.28]
04. Khalini Aiish [0:04:48.42]
05. Bein el Ein [0:04:14.47]
06. Hobak Wajaa (Inta Lameen) [0:04:48.15]
07. Interlude (Instrumental) [0:02:20.02]
08. Kad Ma Bishtaklak [0:03:48.54]
09. Kan Nafsee Aaraf [0:05:01.71]
10. Zekra [0:05:04.05]
11. Irham Kalbi [0:03:57.37]
12. Gouwaya Leik [0:04:35.71]
13. Karibli [0:04:03.71]
14. Law Nirjaa Sawa [0:04:37.74]


Alissar Khoury, known as Elissa is an Arabic Music star from Lebanon. Born on the 27th of October, 1972. Launched off her career in 1998 with a breakthrough hit "Baddi Doub".

Elissa started off her singing career back in the early 90's in Studio Fann over LBCI channel. After a long absence, she came back with a Spanish-Arabic mash up titled "Badi Doub" in 1998. Her first album Baddi Doub was one of the largest selling Album in Lebanon and the Middle East. She sold over 150.000 copies. She features a flamenco artist named Gerard Ferrer in the song, Baddi Doub

Elissa's Fourth album, Ahla Donya was released in 2004. This album was the first production after the contract Elissa had with Rotana, the music production company. The album included a variety of songs. Such as Koll Youm Fi Omry, Erga' Lel Shoa', Hobbak Waja' (Inta Lameen) and Ahla Donya. The song was a true success for Elissa, which marked her on the road of Stardom along with 3 video clips. The album has lead to a World Music Award which she nabbed on August 2005 as as best-selling Artist in Lebanon. In 2005, a Special Collector's Edition of the record was made available with state-of-the-art packaging including a mini-biography about the singer. The Edition was made available in only 1000 copies, making it a must-have for fans and collectors everywhere.

Elissa is an official spokesperson of Pepsi, she has a total of 2-3 Commercials. One which was done for the energy drink of Pepsi, Pepsi X, included a sample of the song Arrably from the album Ahla Donya before its release date. Another was a collaboration with the 8 finalists of the first season of Star Academy.


preview track 02 (mp3) - AhlaDounya (9.2Mb):
http://rapidshare.de/files/16901204/AhlaDounya.rar
mp3 320Kb (144Mb):
http://rapidshare.de/files/16925986/elissa_ad_1.part1.rar
http://rapidshare.de/files/16939146/elissa_ad_1.part2.rar
http://rapidshare.de/files/16904890/elissa_ad_1.part3.rar
ape (453Mb):
http://rapidshare.de/files/16958569/elissa_ad_2.part1.rar
http://rapidshare.de/files/16967179/elissa_ad_2.part2.rar
http://rapidshare.de/files/16973812/elissa_ad_2.part3.rar
http://rapidshare.de/files/16980661/elissa_ad_2.part4.rar
http://rapidshare.de/files/16986538/elissa_ad_2.part5.rar
http://rapidshare.de/files/16990983/elissa_ad_2.part6.rar
http://rapidshare.de/files/16996127/elissa_ad_2.part7.rar
http://rapidshare.de/files/16998849/elissa_ad_2.part8.rar
http://rapidshare.de/files/17001190/elissa_ad_2.part9.rar
http://rapidshare.de/files/16946331/elissa_ad_2.part10.rar