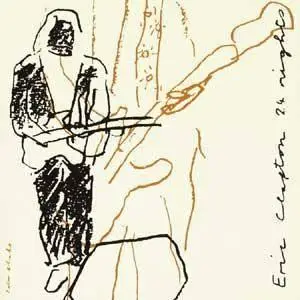 Artist:
Eric Clapton
Title:
24 Nights: Live From Albert Hall
Label:
Reprise Records
Genre:
Rock, Rock/Pop, Live Performances
Released:
Oct 08, 1991
Format:
MP3
Bitrate:
192 kBit/s
Size: 152 MB (incl. 5% Recovery record)
Personnel:
Eric Clapton (vocals, guitar); Buddy Guy, Robert Cray, Jimmie Vaughan, Phil Palmer (guitar); Jerry Portnoy (harmonica); Johnnie Johnson (piano); Greg Philinganes (keyboards, background vocals); Chuck Leavell (keyboards); Nathan East (bass, background vocals); Richard Cousins, Joey Spampinato (bass); Steve Ferrone, Jamie Oldaker (drums); Phil Collins (tambourine); Ray Cooper (percussion); Katie Kissoon, Tessa Niles (background vocals)
Guest(s): Buddy Guy; Robert Cray; Johnnie Johnson; Jimmie Vaughan; Michael Kamen; Jerry Portnoy; Joey Spaminato; Phil Collins.
Recorded live at The Royal Albert Hall, London in 1990 & 1991
AMG album review by William Ruhlmann:
Eric Clapton, who had not released a live album since 1980, had several good reasons to release one in the early '90s. For one thing, his spare backup band of keyboardist Greg Phillinganes, bassist Nathan East, and drummer Steve Ferrone, was his best live unit ever, and its powerful live versions of Cream classics like "White Room" and "Sunshine of Your Love" deserved to be documented. For another, since 1987, Clapton had been playing an annual series of concerts at the Royal Albert Hall in London, putting together various special shows — blues nights, orchestral nights, etc. 24 Nights, a double album, was culled from two years of such shows, 1990 and 1991, and it demonstrated the breadth of Clapton's work, from his hot regular band to assemblages of bluesmen like Buddy Guy and Robert Cray to examples of his soundtrack work with an orchestra led by Michael Kamen. The result was an album that came across as a lavishly constructed retrospective and a testament to Clapton's musical stature. But it made little impact upon release (though it quickly went gold), perhaps because events overcame it — three months later, Clapton's elegy for his baby son, "Tears In Heaven," was all over the radio, and a few months after that he was redefining himself on MTV Unplugged — a live show as austere as 24 Nights was grand. Still, it would be hard to find a more thorough demonstration of Clapton's abilities than the one presented here.
Tracklists:
DISC 1:
1. Badge
2. Running On Faith
3. White Room
4. Sunshine Of Your Love
5. Watch Yourself
6. Have You Ever Loved A Woman
7. Worried Life Blues
8. Hoodoo Man
DISC 2:
1. Pretending
2. Bad Love
3. Old Love
4. Wonderful Tonight
5. Bell Bottom Blues
6. Hard Times
7. Edge Of Darkness
Part 1 (80 MB)
Part 2 (72 MB)