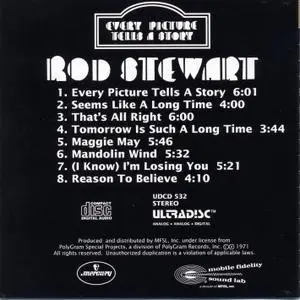 CD FULL RANGE ONLY | CLONE CD IMAGE | 433 MB (271 MB RAR)| MOBILE FIDELITY SOUND LAB | AUDIOPHILE CD
Mobile Fidelity Sound Lab has been the undisputed pioneer and leader in audiophile recordings since the company's inception in 1977. Established by dedicated audiophiles, Mobile Fidelity's first and foremost goal was to offer faithfully reproduced high fidelity recordings that would compliment the numerous advances occurring in audio delivery systems. Throughout its history, Mobile Fidelity has remained true to this goal, pioneering state-of-the-art technologies and setting audiophile standards that remain in place today.
In response to rapid advancements in both recording formats and audio delivery systems over the past several years, Mobile Fidelity has maintained its ongoing commitment to improving industry standards. This has resulted in the introduction of numerous innovations in the audiophile arena: half-speed mastered Original Master Recording™ LPs, Ultra High Quality Records™ (UHQRs), high fidelity cassettes, consumer alignment devices for phono cartridges and audio cassette decks, Original Master Recording™ compact discs, the 24-karat gold plated Ultradisc™ CD and the Ultradisc™ Ultra High Resolution™ (UHR). To this day the independently owned firm continues its commitment to exceeding industry standards.
This is a true Collector's find for those individuals who want to own the finest and rarest pieces of musical history. It is similar to owning the artist's own Rare Gold Record Album in a Gold CD pressing. You will be one of the last people in the world to own these Limited Edition Long Out of Print Masterpieces that will add true value to your Collection.
MFSL LIMITED GOLD EDITION. This 24-Karat Gold Limited Edition is an audiophile collectors item that simply gives the feeling of being directly in the studio with the artist.
This recording is mastered from the Original Session Tapes and the disc is custom pressed using 24-Karat Gold (known for its superior qualities and resistance to oxidation). This Out of Print Gold bonafide collectible disc has all Liner Notes, Photos, and Artwork from the Original LP faithfully recreated.
A SONIC WORK OF ART. These Out of Print gems are the Ferrari of the audiophile CD market. Many over the last year have doubled or tripled in value. The future of these collectibles is so exciting because each piece is a sonic work of art that will never be reproduced using this expensive 24-Karat Gold mastering process. You will be one of only a few thousand in the world owning this audiophile classic.
Artist: Rod Stewart
Title: Every Picture Tells a Story
Format: CD
Record Label: Mobile Fidelity (ULTRADISC)
Catalogue No: UDCD 532
Country of Origin: USA
Release: March 26, 1990
Original Released: 1971
Genre: Rock
Producer: Rod Stewart
Guest(s): Ron Wood; John Baldry
Engineer: Mike Bobak
Every Picture Tells A Story is an album by Rod Stewart, first released in summer 1971. The album is a mixture of rock, blues, soul and folk, and includes his breakthrough hit, "Maggie May", co-written by classical guitarist Martin Quittenton, as well as the Tim Hardin song, "Reason to Believe". "Reason" had initially been the A-side of the single and "Maggie May", the B-side, until general reaction resulted in their reversal.
The album also included a cover of the Bob Dylan song, "Tomorrow Is A Long Time", an outtake to Dylan's 1963 album The Freewheelin' Bob Dylan. (Dylan would later officially release the song on his 1971 release, Bob Dylan's Greatest Hits Vol. II.)
In addition to members of The Faces, with whom Stewart was lead vocalist, musicians included Ray Jackson on mandolin (though Stewart forgot his name and merely mentioned 'the mandolin player from Lindisfarne' on the sleeve), and Micky Waller on drums. Maggie Bell duetted with him on the title track.
It reached the No. 1 position in both the UK and the US at the same time that "Maggie May" was topping the singles charts in both territories, making Stewart the first artist to achieve such a feat. It has often been voted among the best British albums of all time.
In 1992, the album was awarded the number one spot in Jimmy Guterman's highly subjective book The Best Rock 'N' Roll Records of All Time: A Fan's Guide to the Stuff You Love.
Every Picture Tells A Story was ranked 99th in a 2005 survey held by British television's Channel 4 to determine the 100 greatest albums of all time.
If you buy only one Rod Stewart album, EVERY PICTURE TELLS A STORY should be it.
Track Listings:
1. Every Picture Tells a Story 6:01
2. Seems Like a Long Time 4:00
3. That's All Right 6:00
4. Tomorrow Is a Long Time 3:44
5. Maggie May 5:46
6. Mandolin Wind 5:32
7. (I Know) I'm Losing You 5:21
8. Reason to Believe 4:10
Personnel include:
Rod Stewart (vocals, acoustic guitar);
Ron Wood (guitar, pedal steel guitar, bass instrument);
Martin Quittenton (guitar); Sam Mitchell (slide guitar);
Dick Powell (violin); Pete Sears (piano); Ian McLagan (organ);
Danny Thompson, Andy Pyle (bass instrument);
Mick Waller (drums);
John Baldry, Madeline Bell (background vocals).
Editorial Reviews:
Greil Marcus' classic book Stranded asked a number of rock critics to name their "desert island disc;" the one record they would take to the farthest corner of the world. This is mine, hands down. Rod Stewart made such a perfect record with this 1971 classic that he never really recovered. Decades later, it still jumps out of the speakers as fresh as the day it was recorded. He matched his own best songs ("Maggie May") with well-chosen covers (Tim Hardin's "Reason To Believe") that he made every bit his own. He then dressed them up with American roots music played by drunken Brits and something was found in the translation. Picture stands as rock's shining hour–at least in my book. –Michael Ruby
This 1971 album is far and away the best Rod Stewart album and one of the Top 10 albums of that decade. This was only his third album and it went to the top of the album charts both in the U.S. and the U.K., whereas "Gasoline Alley," released the previous year had only made it to #27 on the Billboard chart (it would not be until 1979 that Stewart would have another album reach #1, with "Blondes Have More Fun"). In the early part of his career Stewart managed to find interesting ways of mixing folk, rock, blues and country, both in his single career and as the front man for the Faces, who released both their second ("Long Player") and third albums ("A Nod Is as Good as a Wink…To a Blind Horse Faces") that year as well ("Stay With Me" was the big hit off of the later). So for Rod Stewart 1971 was a very good year.
The big single off of this album, of course, is "Maggie May," hit #1 for several weeks (this was the first song we played for our daughter Maggie, the day after she was born). This is one of the great songs about being seduced by an older woman. Two other singles charted, the rockin' cover of "(I Know) I'm Losing You" originally done by the Temptations, which made it to #24, and Stewart's poignant cover of Tim Hardin's "Reason to Believe," which ends the album on a quiet note and made it to #62. Then there is the exquisite "Mandolin Wind" (played by some guy Rod forgot the name of) and the frenetic energy of the title track, which lulls you into a false sense of security by beginning with an acoustic guitar part before the drums start drivin' this one hard and fast. Surprisingly, most of the songs on this one are covers, the exceptions between "Mandolin Wind" and the title track, the latter co-written by Stewart with lead guitarist Ron Wood.
Stewart exhibits a lot of range on this album and for me the only that could possible qualify as a misfire would be the cover of Bob Dylan's "Tomorrow Is Such a Long Time," which is a bit ironic because you would think that would work. "Seems Like a Long Time" is pretty good, as is the rollickin' "That's All Right" by "Big Boy" Crudup. I even love the sheet music on the "back cover" ("It's Full of Good Things and Loads of Suggestions"). As far as I am concerned if your choice is between this and a Rod Stewart "Greatest Hits" CD, get this one because it is all downhill for Stewart from this point on. –Lawrance M. Bernabo
Listening! You can hear a difference! Enjoy it!
RIPPED AND UPLOADED BY bobby joe bradley
Links tested 14/06/2006
DOWNLOAD RAPIDSHARE LINKS (covers and booklet included), rar files (1% recovery)
(You need CloneCD or Alcohol to burn image files to music CD)
:
Downl... Story part 1 (95.3 MB)
Downl... Story part 2 (95.3 MB)
Downl... Story part 3 (80.7 MB)
Password: No password
Rapidshare friendly:
http://rapidshare.de/files/23006845/rsepts.part1.rar
http://rapidshare.de/files/23007102/rsepts.part2.rar
http://rapidshare.de/files/23007681/rsepts.part3.rar