Francesco da Milano - Intabolatura da Leuto (1530 ca) - Paul Beier, lute (1999) {Stradivarius STR11010 rel 2006}
XLD rip (secure mode) | FLAC (tracks)+CUE+LOG -> 226 Mb | MP3 @320 -> 139 Mb
Full Artwork @ 600 dpi (jpg) -> 44 Mb | 5% repair rar
© 1999, 2006 Stradivarius | STR 11010 | Echo Series
Classical / Renaissance / Chamber Music / Lute
This book (entablature) of lute pieces was published about 1530 by Francesco da Milano (1497-1543), known in his day along with Michelangelo as "Il Divino." The foremost lutenist of the Italian Renaissance, he served three popes and two cardinals. His works were published throughout Europe. "Clear phrasing captured by Beier with exquisite taste and without ostentation." -Goldberg
Stradivarius is an Italian company that often produces desirable, high-quality recordings of classical music that are difficult to adapt for the English-speaking market. Past issues often have a cheap look, translations are poor, and the best thing about the package has been the part of it that goes into the player, especially as these issues are typically marketed at a full-price point.

However, the products from Stradivarius have gotten better. Take for example Francesco da Milano: Intabolatura da Leuto, previously issued in 1999 on the main Stradivarius label but now relocated to its cheaper, and more attractive Echo Series, which appears to be roughly equivalent in function for Stradivarius as the Musique d'abord product line is to Harmonia Mundi. This release focuses on a mysterious, undated printed folio of Francesco's music of unknown provenance that is estimated to have been published around 1530. Intabolatura da Leuto is likely the only one among the many publications of Francesco's lute music that the composer might have had a hand in preparing; it is very well made and seems to have been engraved from copper plates, a practice otherwise unknown in music printing of this period and not adopted until long afterward. One copy of this unique print is located in National Library of Vienna, and this has provided the basis for Paul Beier's performance of the Francesco's lute music on Francesco da Milano: Intabolatura da Leuto.

Beier, former leader of the Ensemble Galilei and leader of Ensemble Galatea, is an expert English lutenist based in Milan. He strongly identifies with the music of Francesco and easily "ravishes the souls of his hearers" (paraphrasing Grove's), performing on a six-course instrument specially built in honor of Francesco's 500th birthday in 1997. It is sensitive and moving music, artfully crafted, and here, very well recorded. The booklet features a long essay by Francesco authority Franco Pavan reproduced in tiny print that covers the bibliographic provenance of Intabolatura da Leuto in pin-point detail; while it will be of interest to antiquarians, most readers will likely never make their way through it. However, the music is the main point of interest, and Stradivarius deserves credit for the strides it is taking in terms of making recordings accessible to non-Italian markets; lute fanciers should not miss this one.
Personnel
Paul Beier
- lute (Klaus Jacobsen, 1997; 6-course Rennaisance)
Recording: Bondo, Switzerland, December, 1997Track Listing
01 Ricercar 11
02 Ricercar 12
03 Le plus gorgais du monde
04 Ricercar 14
05 Ricercar 15
06 Tu discois (Tu discois que je mourroye, Claudin de Sermisy)
07 Ricercar 8
08 Yie me plains (Las ye my plains, Claudin de Sermisy)
09 Ricercar 5
10 Ricercar 19
11 O Bone Yhesu (O Bone Jesu, Loyset Compere)
12 Ricercar 3
13 Ricercar 13
14 Restovit (Resjouissez vous bourgeoises, Jean Mouton)
15 Ricercar 10
16 Ricercar 7
17 Ricercar 6
18 Can gieto fu marie (Quand j'estoie à marrier)
19 Ricercar 4
20 Chi voleno dir de moy (Que voulez dir de moi)
21 Ricercar 18
22 Mon per si ma marie
23 Ricercar 2
24 Per quoy Ale vo soleta (Pourquoy allez vous seullette)
25 Ricercar 9
26 Ricercar 16
27 Ricercar 17
X Lossless Decoder version 20170729 (150.3)

XLD extraction logfile from 2018-01-16 16:03:28 +0100

Paul Beier / Francesco da Milano - Intabolatura da Leuto (1530 ca) - Paul Beier, lute [Stradivarius]

Used drive : PLEXTOR DVDR PX-755A (revision 1.06)
Media type : Pressed CD

Ripper mode : XLD Secure Ripper
Disable audio cache : OK for the drive with a cache less than 1375KiB
Make use of C2 pointers : NO
Read offset correction : 30
Max retry count : 100
Gap status : Analyzed, Appended (except HTOA)

TOC of the extracted CD
Track | Start | Length | Start sector | End sector
––––––––––––––––––––––––––––-
1 | 00:00:00 | 02:16:50 | 0 | 10249
2 | 02:16:50 | 02:41:17 | 10250 | 22341
3 | 04:57:67 | 01:32:55 | 22342 | 29296
4 | 06:30:47 | 01:30:15 | 29297 | 36061
5 | 08:00:62 | 01:38:45 | 36062 | 43456
6 | 09:39:32 | 02:25:10 | 43457 | 54341
7 | 12:04:42 | 02:18:30 | 54342 | 64721
8 | 14:22:72 | 01:54:20 | 64722 | 73291
9 | 16:17:17 | 03:42:38 | 73292 | 89979
10 | 19:59:55 | 04:56:40 | 89980 | 112219
11 | 24:56:20 | 02:31:50 | 112220 | 123594
12 | 27:27:70 | 01:29:42 | 123595 | 130311
13 | 28:57:37 | 01:36:50 | 130312 | 137561
14 | 30:34:12 | 02:50:55 | 137562 | 150366
15 | 33:24:67 | 01:50:10 | 150367 | 158626
16 | 35:15:02 | 01:05:73 | 158627 | 163574
17 | 36:21:00 | 02:44:42 | 163575 | 175916
18 | 39:05:42 | 03:37:23 | 175917 | 192214
19 | 42:42:65 | 00:48:67 | 192215 | 195881
20 | 43:31:57 | 01:42:15 | 195882 | 203546
21 | 45:13:72 | 02:37:60 | 203547 | 215381
22 | 47:51:57 | 02:06:58 | 215382 | 224889
23 | 49:58:40 | 01:38:57 | 224890 | 232296
24 | 51:37:22 | 02:43:70 | 232297 | 244591
25 | 54:21:17 | 01:59:50 | 244592 | 253566
26 | 56:20:67 | 00:59:58 | 253567 | 258049
27 | 57:20:50 | 02:39:72 | 258050 | 270046

AccurateRip Summary (DiscID: 003aff14-047490b9-8f0e101b)
Track 01 : OK (v1, confidence 3/3)
Track 02 : OK (v1, confidence 3/3)
Track 03 : OK (v1, confidence 3/3)
Track 04 : OK (v1, confidence 3/3)
Track 05 : OK (v1, confidence 3/3)
Track 06 : OK (v1, confidence 3/3)
Track 07 : OK (v1, confidence 3/3)
Track 08 : OK (v1, confidence 3/3)
Track 09 : OK (v1, confidence 3/3)
Track 10 : OK (v1, confidence 3/3)
Track 11 : OK (v1, confidence 3/3)
Track 12 : OK (v1, confidence 3/3)
Track 13 : OK (v1, confidence 3/3)
Track 14 : OK (v1, confidence 3/3)
Track 15 : OK (v1, confidence 3/3)
Track 16 : OK (v1, confidence 3/3)
Track 17 : OK (v1, confidence 3/3)
Track 18 : OK (v1, confidence 3/3)
Track 19 : OK (v1, confidence 3/3)
Track 20 : OK (v1, confidence 3/3)
Track 21 : OK (v1, confidence 3/3)
Track 22 : OK (v1, confidence 3/3)
Track 23 : OK (v1, confidence 3/3)
Track 24 : OK (v1, confidence 3/3)
Track 25 : OK (v1, confidence 3/3)
Track 26 : OK (v1, confidence 3/3)
Track 27 : OK (v1, confidence 3/3)
->All tracks accurately ripped.

All Tracks
Album gain : 4.26 dB
Peak : 0.799438
Statistics
Read error : 0
Jitter error (maybe fixed) : 0
Retry sector count : 0
Damaged sector count : 0

Track 01
Filename : /Francesco da Milano - Intabolatura da Leuto (1530 ca) - Paul Beier, lute [Stradivarius]/01 Ricercar 11.flac
Pre-gap length : 00:02:00

Track gain : 2.65 dB
Peak : 0.546906
CRC32 hash (test run) : 8A3B2097
CRC32 hash : 8A3B2097
CRC32 hash (skip zero) : A32AD6EC
AccurateRip v1 signature : 5A40652D
AccurateRip v2 signature : 43EEB437
->Accurately ripped (v1, confidence 3/3)
Statistics
Read error : 0
Jitter error (maybe fixed) : 0
Retry sector count : 0
Damaged sector count : 0

Track 02
Filename : /Francesco da Milano - Intabolatura da Leuto (1530 ca) - Paul Beier, lute [Stradivarius]/02 Ricercar 12.flac

Track gain : 4.66 dB
Peak : 0.436401
CRC32 hash (test run) : 41682050
CRC32 hash : 41682050
CRC32 hash (skip zero) : C8C55E0F
AccurateRip v1 signature : 41C15F62
AccurateRip v2 signature : E75049B7
->Accurately ripped (v1, confidence 3/3)
Statistics
Read error : 0
Jitter error (maybe fixed) : 0
Retry sector count : 0
Damaged sector count : 0

Track 03
Filename : /Francesco da Milano - Intabolatura da Leuto (1530 ca) - Paul Beier, lute [Stradivarius]/03 Le plus gorgais du monde.flac

Track gain : 4.22 dB
Peak : 0.447937
CRC32 hash (test run) : 16D77DC6
CRC32 hash : 16D77DC6
CRC32 hash (skip zero) : 298A6BE1
AccurateRip v1 signature : B79C11C8
AccurateRip v2 signature : 8AD94B1B
->Accurately ripped (v1, confidence 3/3)
Statistics
Read error : 0
Jitter error (maybe fixed) : 0
Retry sector count : 0
Damaged sector count : 0

Track 04
Filename : /Francesco da Milano - Intabolatura da Leuto (1530 ca) - Paul Beier, lute [Stradivarius]/04 Ricercar 14.flac

Track gain : 3.96 dB
Peak : 0.525269
CRC32 hash (test run) : C3B86F5C
CRC32 hash : C3B86F5C
CRC32 hash (skip zero) : 95C51AC1
AccurateRip v1 signature : 931888B5
AccurateRip v2 signature : 5A9E4906
->Accurately ripped (v1, confidence 3/3)
Statistics
Read error : 0
Jitter error (maybe fixed) : 0
Retry sector count : 0
Damaged sector count : 0

Track 05
Filename : /Francesco da Milano - Intabolatura da Leuto (1530 ca) - Paul Beier, lute [Stradivarius]/05 Ricercar 15.flac

Track gain : 2.95 dB
Peak : 0.525482
CRC32 hash (test run) : B3BB6186
CRC32 hash : B3BB6186
CRC32 hash (skip zero) : 2E3B957E
AccurateRip v1 signature : 9CF979B9
AccurateRip v2 signature : 0815011C
->Accurately ripped (v1, confidence 3/3)
Statistics
Read error : 0
Jitter error (maybe fixed) : 0
Retry sector count : 0
Damaged sector count : 0

Track 06
Filename : /Francesco da Milano - Intabolatura da Leuto (1530 ca) - Paul Beier, lute [Stradivarius]/06 Tu discois (Tu discois que je mourroye, Claudin de Sermisy).flac

Track gain : 3.06 dB
Peak : 0.799438
CRC32 hash (test run) : 29E7C443
CRC32 hash : 29E7C443
CRC32 hash (skip zero) : 670B259A
AccurateRip v1 signature : E8C84A78
AccurateRip v2 signature : 26DBD549
->Accurately ripped (v1, confidence 3/3)
Statistics
Read error : 0
Jitter error (maybe fixed) : 0
Retry sector count : 0
Damaged sector count : 0

Track 07
Filename : /Francesco da Milano - Intabolatura da Leuto (1530 ca) - Paul Beier, lute [Stradivarius]/07 Ricercar 8.flac

Track gain : 5.66 dB
Peak : 0.432678
CRC32 hash (test run) : 1A2643CC
CRC32 hash : 1A2643CC
CRC32 hash (skip zero) : 7DAC23F1
AccurateRip v1 signature : 1B7C17BA
AccurateRip v2 signature : DD1487B7
->Accurately ripped (v1, confidence 3/3)
Statistics
Read error : 0
Jitter error (maybe fixed) : 0
Retry sector count : 0
Damaged sector count : 0

Track 08
Filename : /Francesco da Milano - Intabolatura da Leuto (1530 ca) - Paul Beier, lute [Stradivarius]/08 Yie me plains (Las ye my plains, Claudin de Sermisy).flac

Track gain : 7.41 dB
Peak : 0.270447
CRC32 hash (test run) : 0CDA5E3B
CRC32 hash : 0CDA5E3B
CRC32 hash (skip zero) : 0D89FCCA
AccurateRip v1 signature : 54CD954D
AccurateRip v2 signature : 3F6915C2
->Accurately ripped (v1, confidence 3/3)
Statistics
Read error : 0
Jitter error (maybe fixed) : 0
Retry sector count : 0
Damaged sector count : 0

Track 09
Filename : /Francesco da Milano - Intabolatura da Leuto (1530 ca) - Paul Beier, lute [Stradivarius]/09 Ricercar 5.flac

Track gain : 2.91 dB
Peak : 0.592865
CRC32 hash (test run) : 731BE3F9
CRC32 hash : 731BE3F9
CRC32 hash (skip zero) : A5D28455
AccurateRip v1 signature : CB78F385
AccurateRip v2 signature : 02C14A04
->Accurately ripped (v1, confidence 3/3)
Statistics
Read error : 0
Jitter error (maybe fixed) : 0
Retry sector count : 0
Damaged sector count : 0

Track 10
Filename : /Francesco da Milano - Intabolatura da Leuto (1530 ca) - Paul Beier, lute [Stradivarius]/10 Ricercar 19.flac

Track gain : 3.98 dB
Peak : 0.450684
CRC32 hash (test run) : 7A3D469B
CRC32 hash : 7A3D469B
CRC32 hash (skip zero) : 40EBEFE5
AccurateRip v1 signature : 2A597C18
AccurateRip v2 signature : D73A7703
->Accurately ripped (v1, confidence 3/3)
Statistics
Read error : 0
Jitter error (maybe fixed) : 0
Retry sector count : 0
Damaged sector count : 0

Track 11
Filename : /Francesco da Milano - Intabolatura da Leuto (1530 ca) - Paul Beier, lute [Stradivarius]/11 O Bone Yhesu (O Bone Jesu, Loyset Compere).flac

Track gain : 5.80 dB
Peak : 0.452698
CRC32 hash (test run) : 788410CF
CRC32 hash : 788410CF
CRC32 hash (skip zero) : 04E92294
AccurateRip v1 signature : D64A5C64
AccurateRip v2 signature : B99D995F
->Accurately ripped (v1, confidence 3/3)
Statistics
Read error : 0
Jitter error (maybe fixed) : 0
Retry sector count : 0
Damaged sector count : 0

Track 12
Filename : /Francesco da Milano - Intabolatura da Leuto (1530 ca) - Paul Beier, lute [Stradivarius]/12 Ricercar 3.flac

Track gain : 3.87 dB
Peak : 0.503296
CRC32 hash (test run) : 9B2D9073
CRC32 hash : 9B2D9073
CRC32 hash (skip zero) : E3B71BFB
AccurateRip v1 signature : 80D95435
AccurateRip v2 signature : 7E758D6C
->Accurately ripped (v1, confidence 3/3)
Statistics
Read error : 0
Jitter error (maybe fixed) : 0
Retry sector count : 0
Damaged sector count : 0

Track 13
Filename : /Francesco da Milano - Intabolatura da Leuto (1530 ca) - Paul Beier, lute [Stradivarius]/13 Ricercar 13.flac

Track gain : 6.59 dB
Peak : 0.341827
CRC32 hash (test run) : B170E4C9
CRC32 hash : B170E4C9
CRC32 hash (skip zero) : 9DC89C38
AccurateRip v1 signature : A2F8EA2C
AccurateRip v2 signature : B7E2C32B
->Accurately ripped (v1, confidence 3/3)
Statistics
Read error : 0
Jitter error (maybe fixed) : 0
Retry sector count : 0
Damaged sector count : 0

Track 14
Filename : /Francesco da Milano - Intabolatura da Leuto (1530 ca) - Paul Beier, lute [Stradivarius]/14 Restovit (Resjouissez vous bourgeoises, Jean Mouton).flac

Track gain : 5.19 dB
Peak : 0.405212
CRC32 hash (test run) : 4873116E
CRC32 hash : 4873116E
CRC32 hash (skip zero) : 70BE9E2E
AccurateRip v1 signature : 59007F16
AccurateRip v2 signature : 559FFAB7
->Accurately ripped (v1, confidence 3/3)
Statistics
Read error : 0
Jitter error (maybe fixed) : 0
Retry sector count : 0
Damaged sector count : 0

Track 15
Filename : /Francesco da Milano - Intabolatura da Leuto (1530 ca) - Paul Beier, lute [Stradivarius]/15 Ricercar 10.flac

Track gain : 6.11 dB
Peak : 0.375214
CRC32 hash (test run) : 84203FF6
CRC32 hash : 84203FF6
CRC32 hash (skip zero) : D028BB46
AccurateRip v1 signature : 7038D51D
AccurateRip v2 signature : 382A613D
->Accurately ripped (v1, confidence 3/3)
Statistics
Read error : 0
Jitter error (maybe fixed) : 0
Retry sector count : 0
Damaged sector count : 0

Track 16
Filename : /Francesco da Milano - Intabolatura da Leuto (1530 ca) - Paul Beier, lute [Stradivarius]/16 Ricercar 7.flac

Track gain : 5.48 dB
Peak : 0.421387
CRC32 hash (test run) : 0C777C80
CRC32 hash : 0C777C80
CRC32 hash (skip zero) : DA42124A
AccurateRip v1 signature : 00CCDFC4
AccurateRip v2 signature : C31B9849
->Accurately ripped (v1, confidence 3/3)
Statistics
Read error : 0
Jitter error (maybe fixed) : 0
Retry sector count : 0
Damaged sector count : 0

Track 17
Filename : /Francesco da Milano - Intabolatura da Leuto (1530 ca) - Paul Beier, lute [Stradivarius]/17 Ricercar 6.flac

Track gain : 4.45 dB
Peak : 0.496155
CRC32 hash (test run) : A17FFDB3
CRC32 hash : A17FFDB3
CRC32 hash (skip zero) : F6969EDF
AccurateRip v1 signature : 6BBCF1D7
AccurateRip v2 signature : 561B50EB
->Accurately ripped (v1, confidence 3/3)
Statistics
Read error : 0
Jitter error (maybe fixed) : 0
Retry sector count : 0
Damaged sector count : 0

Track 18
Filename : /Francesco da Milano - Intabolatura da Leuto (1530 ca) - Paul Beier, lute [Stradivarius]/18 Can gieto fu marie (Quand j'estoie a marrier).flac

Track gain : 5.75 dB
Peak : 0.452454
CRC32 hash (test run) : EDE22589
CRC32 hash : EDE22589
CRC32 hash (skip zero) : DDC8B7A1
AccurateRip v1 signature : CAD5193D
AccurateRip v2 signature : A9A14879
->Accurately ripped (v1, confidence 3/3)
Statistics
Read error : 0
Jitter error (maybe fixed) : 0
Retry sector count : 0
Damaged sector count : 0

Track 19
Filename : /Francesco da Milano - Intabolatura da Leuto (1530 ca) - Paul Beier, lute [Stradivarius]/19 Ricercar 4.flac

Track gain : 3.87 dB
Peak : 0.384888
CRC32 hash (test run) : D5CD2B67
CRC32 hash : D5CD2B67
CRC32 hash (skip zero) : F05E8A5D
AccurateRip v1 signature : 3909114D
AccurateRip v2 signature : 82DD7C2F
->Accurately ripped (v1, confidence 3/3)
Statistics
Read error : 0
Jitter error (maybe fixed) : 0
Retry sector count : 0
Damaged sector count : 0

Track 20
Filename : /Francesco da Milano - Intabolatura da Leuto (1530 ca) - Paul Beier, lute [Stradivarius]/20 Chi voleno dir de moy (Que voulez dir de moi).flac

Track gain : 3.73 dB
Peak : 0.467957
CRC32 hash (test run) : 6E8F7F39
CRC32 hash : 6E8F7F39
CRC32 hash (skip zero) : 0A0A597E
AccurateRip v1 signature : DBF70683
AccurateRip v2 signature : B7907D96
->Accurately ripped (v1, confidence 3/3)
Statistics
Read error : 0
Jitter error (maybe fixed) : 0
Retry sector count : 0
Damaged sector count : 0

Track 21
Filename : /Francesco da Milano - Intabolatura da Leuto (1530 ca) - Paul Beier, lute [Stradivarius]/21 Ricercar 18.flac

Track gain : 4.00 dB
Peak : 0.431152
CRC32 hash (test run) : 52DF8289
CRC32 hash : 52DF8289
CRC32 hash (skip zero) : BC633B7A
AccurateRip v1 signature : 581021EB
AccurateRip v2 signature : 90C54BC3
->Accurately ripped (v1, confidence 3/3)
Statistics
Read error : 0
Jitter error (maybe fixed) : 0
Retry sector count : 0
Damaged sector count : 0

Track 22
Filename : /Francesco da Milano - Intabolatura da Leuto (1530 ca) - Paul Beier, lute [Stradivarius]/22 Mon per si ma marie.flac

Track gain : 3.07 dB
Peak : 0.558990
CRC32 hash (test run) : 291F36A5
CRC32 hash : 291F36A5
CRC32 hash (skip zero) : 3F565412
AccurateRip v1 signature : 2B211B14
AccurateRip v2 signature : 9D86D355
->Accurately ripped (v1, confidence 3/3)
Statistics
Read error : 0
Jitter error (maybe fixed) : 0
Retry sector count : 0
Damaged sector count : 0

Track 23
Filename : /Francesco da Milano - Intabolatura da Leuto (1530 ca) - Paul Beier, lute [Stradivarius]/23 Ricercar 2.flac

Track gain : 2.61 dB
Peak : 0.561981
CRC32 hash (test run) : E310DE1A
CRC32 hash : E310DE1A
CRC32 hash (skip zero) : 5A3EFE63
AccurateRip v1 signature : 2F1674DE
AccurateRip v2 signature : 57DBACFB
->Accurately ripped (v1, confidence 3/3)
Statistics
Read error : 0
Jitter error (maybe fixed) : 0
Retry sector count : 0
Damaged sector count : 0

Track 24
Filename : /Francesco da Milano - Intabolatura da Leuto (1530 ca) - Paul Beier, lute [Stradivarius]/24 Per quoy Ale vo soleta (Pourquoy allez vous seullette).flac

Track gain : 6.16 dB
Peak : 0.369629
CRC32 hash (test run) : 107A88CC
CRC32 hash : 107A88CC
CRC32 hash (skip zero) : 632C33A6
AccurateRip v1 signature : FE820D62
AccurateRip v2 signature : 14E1E0D7
->Accurately ripped (v1, confidence 3/3)
Statistics
Read error : 0
Jitter error (maybe fixed) : 0
Retry sector count : 0
Damaged sector count : 0

Track 25
Filename : /Francesco da Milano - Intabolatura da Leuto (1530 ca) - Paul Beier, lute [Stradivarius]/25 Ricercar 9.flac

Track gain : 4.36 dB
Peak : 0.499695
CRC32 hash (test run) : 5EEFDCFB
CRC32 hash : 5EEFDCFB
CRC32 hash (skip zero) : EA3940DA
AccurateRip v1 signature : 5F214F01
AccurateRip v2 signature : B60E190D
->Accurately ripped (v1, confidence 3/3)
Statistics
Read error : 0
Jitter error (maybe fixed) : 0
Retry sector count : 0
Damaged sector count : 0

Track 26
Filename : /Francesco da Milano - Intabolatura da Leuto (1530 ca) - Paul Beier, lute [Stradivarius]/26 Ricercar 16.flac

Track gain : 4.04 dB
Peak : 0.413727
CRC32 hash (test run) : 8462E1F1
CRC32 hash : 8462E1F1
CRC32 hash (skip zero) : 59838620
AccurateRip v1 signature : EB43B0CA
AccurateRip v2 signature : AF642A66
->Accurately ripped (v1, confidence 3/3)
Statistics
Read error : 0
Jitter error (maybe fixed) : 0
Retry sector count : 0
Damaged sector count : 0

Track 27
Filename : /Francesco da Milano - Intabolatura da Leuto (1530 ca) - Paul Beier, lute [Stradivarius]/27 Ricercar 17.flac

Track gain : 4.83 dB
Peak : 0.454102
CRC32 hash (test run) : 54D0BB70
CRC32 hash : 54D0BB70
CRC32 hash (skip zero) : FC69EB04
AccurateRip v1 signature : EF315CE2
AccurateRip v2 signature : 37662D7E
->Accurately ripped (v1, confidence 3/3)
Statistics
Read error : 0
Jitter error (maybe fixed) : 0
Retry sector count : 0
Damaged sector count : 0

No errors occurred

End of status report

––-BEGIN XLD SIGNATURE––-
1MHJMk7CyyxqQJh0HY.LpUEyTe1CWKgmXc1ov_HkcLrbSF5U1mfBEtrFuUtYygBcDtYTmJesr7_h2Hy__kpdyjgzkTssegEGXSoVUs4
––-END XLD SIGNATURE––-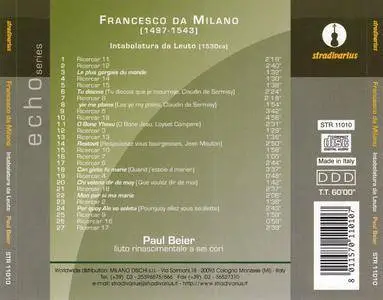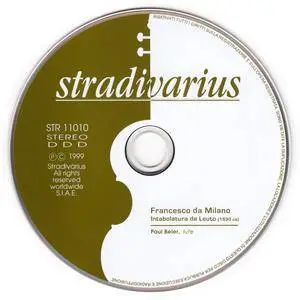 ===