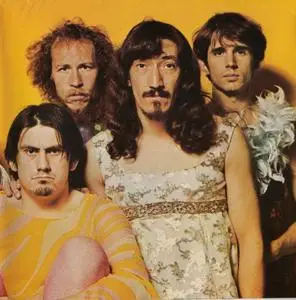 Frank Zappa - We're Only In It For The Money (1968)
EAC rip | FLAC+CUE+LOG -> 236Mb | MP3 @320 -> 91Mb
39:18 | Full artwork @ 400 dpi -> 73Mb
Rykodisc / (March 1968)
This is it, kids: The ultimate stab at hippiedom, the flipside to SGT. PEPPER, the album that didn't leave a single pretense of the counterculture standing. Can it be mere coincidence that the '60s ended within a few years of this album's release?
From its Beatles parody cover design to the lyrical barbs on "Flower Punk" and "Who Needs the Peace Corps?," this was aptly described by Rolling Stone (who picked it as one of the top 100 albums from 1967-1987) as "perhaps the most mercilessly derisive raspberry ever flung at the rock scene by an actual participant therein." The finale, "The Chrome Plated Megaphone of Destiny" still stands as one of the more audacious pieces of composition in the Zappa catalogue.
When WE'RE ONLY IN IT FOR THE MONEY first appeared on CD in 1986, Zappa took the controversial step of technically spiffing up the music with new, digitally-recorded bass and drum tracks. Some fans responded with a resounding "Thanks, but no thanks." Here, the original Verve master has been restored.
©Rykotracklist
1. Are You Hung Up? 1:24
2. Who Needs The Peace Corps? 2:34
3. Concentration Moon 2:22
4. Mom & Dad 2:16
5. Telephone Conversation 0:48
6. Bow Tie Daddy 0:33
7. Harry, You're A Beast 1:21
8. What's The Ugliest Part Of Your Body? 1:03
9. Absolutely Free 3:24
10. Flower Punk 3:03
11. Hot Poop 0:26
12. Nasal Retentive Calliope Music 2:02
13. Let's Make The Water Turn Black 2:01
14. The Idiot Bastard Son 3:18
15. Lonely Little Girl 1:09
16. Take Your Clothes Off When You Dance 1:32
17. What's The Ugliest Part Of Your Body? (reprise) 1:02
18. Mother People 2:26
19. The Chrome Plated Megaphone Of Destiny 6:25