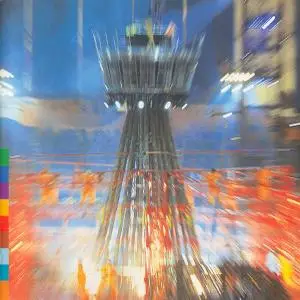 Peter Gabriel: OVO, The Millenium Show
Only 15 Mo files, but APE or MP3 HQ, you have the choice!
The Millenium Show took place in 2000 at the brand-new Millenium Dome, in London, to celebrate the new millenium with the royal family. Peter Gabriel made a very special show. The original pack has a main CD, and an additional one with one song and a movie about the show. I scanned the main booklet, but a second one, which tells us the uninteresting story, was too difficult to scan.
2 CDs REAL WORLD 2000, home ripped with EAC.
APE+CUE if you love quality, or MP3 LAME VBR HQ if you prefer a smaller size download.
Movie, covers and main booklet available.
To help little connections, I made only 15 Mo files, with 3% restoration, and sfv files to verify quality of downloads. I am sorry for RS Premium owners, but these ones won't forget to use Rapidget.
Password for all files is standard
www.AvaxHome.ru
The main CD:
APE+CUE (15 Mo x 22 + 8 Mo x 1 + sfv)
http://rapidshare.de/files/22168387/pgmsape.part01.rar.html
http://rapidshare.de/files/22168539/pgmsape.part02.rar.html
http://rapidshare.de/files/22168700/pgmsape.part03.rar.html
http://rapidshare.de/files/22168875/pgmsape.part04.rar.html
http://rapidshare.de/files/22169059/pgmsape.part05.rar.html
http://rapidshare.de/files/22169216/pgmsape.part06.rar.html
http://rapidshare.de/files/22169542/pgmsape.part07.rar.html
http://rapidshare.de/files/22169891/pgmsape.part08.rar.html
http://rapidshare.de/files/22170254/pgmsape.part09.rar.html
http://rapidshare.de/files/22170548/pgmsape.part10.rar.html
http://rapidshare.de/files/22170719/pgmsape.part11.rar.html
http://rapidshare.de/files/22170975/pgmsape.part12.rar.html
http://rapidshare.de/files/22171139/pgmsape.part13.rar.html
http://rapidshare.de/files/22171298/pgmsape.part14.rar.html
http://rapidshare.de/files/22171488/pgmsape.part15.rar.html
http://rapidshare.de/files/22171650/pgmsape.part16.rar.html
http://rapidshare.de/files/22171819/pgmsape.part17.rar.html
http://rapidshare.de/files/22171996/pgmsape.part18.rar.html
http://rapidshare.de/files/22172158/pgmsape.part19.rar.html
http://rapidshare.de/files/22172323/pgmsape.part20.rar.html
http://rapidshare.de/files/22172473/pgmsape.part21.rar.html
http://rapidshare.de/files/22172642/pgmsape.part22.rar.html
http://rapidshare.de/files/22172729/pgmsape.part23.rar.html
http://rapidshare.de/files/22172731/pgmsape.part01.sfv.html
MP3 (15 Mo x 5 + 11 Mo x 1 + sfv)
http://rapidshare.de/files/22167512/pgmslame.part1.rar.html
http://rapidshare.de/files/22167658/pgmslame.part2.rar.html
http://rapidshare.de/files/22167789/pgmslame.part3.rar.html
http://rapidshare.de/files/22167938/pgmslame.part4.rar.html
http://rapidshare.de/files/22168127/pgmslame.part5.rar.html
http://rapidshare.de/files/22168246/pgmslame.part6.rar.html
http://rapidshare.de/files/22168247/pgmslame.part1.sfv.html
Covers (1 Mo)
http://rapidshare.de/files/22172741/pgmscov.rar.html
Booklet (9 Mo)
http://rapidshare.de/files/22172823/pgmsbook.rar.html
The additional CD:
APE (15 Mo x 2 + 3 Mo x 1 + sfv)
http://rapidshare.de/files/22173094/pgms_ape.part1.rar.html
http://rapidshare.de/files/22173257/pgms_ape.part2.rar.html
http://rapidshare.de/files/22173287/pgms_ape.part3.rar.html
http://rapidshare.de/files/22173096/pgms_ape.part1.sfv.html
MP3 (8 Mo)
http://rapidshare.de/files/22172921/pgms_lame.rar.html
Covers (0,5 Mo)
http://rapidshare.de/files/22173293/pgms_cov.rar.html
Movie (15 Mo x 3 + 12 Mo x 1 + sfv)
http://rapidshare.de/files/22173484/pgmsmov.part1.rar.html
http://rapidshare.de/files/22173666/pgmsmov.part2.rar.html
http://rapidshare.de/files/22173828/pgmsmov.part3.rar.html
http://rapidshare.de/files/22173981/pgmsmov.part4.rar.html
http://rapidshare.de/files/22173983/pgmsmov.part1.sfv.html