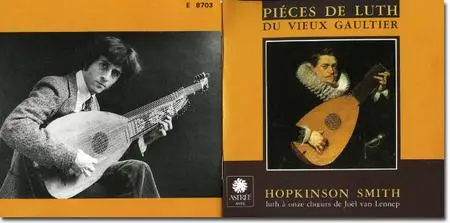 Ennemond Gaultier ("Le Vieux Gaultier", 1575-1651), Pièces de luth - Hopkinson Smith
Astrée 8703 | EAC FLAC Lossless + scans + tablature | ~ 320 MB
The greatest Baroque lute composer performed by the greatest lute player.
Joyeux Noël, scarabou!
Contents:
Suite in D minor
1. Prélude
2. Tombeau de Mezangeau
3. L'Adieu
4. Canaries
5. Les dernieres paroles ou Testament de Mezangeau
6. Courante
7. La poste
Suite in F# minor
8. Prélude
9. Allemande, La pompe funèbre
10. Courantes
11. Sarabande
12. Gigue
13. Rondeau
14. La chevre
Suite in A major
15. Prélude
16. Chaconne
17. La pleureuse & double
18. La maribelle
19. Sarabande
20. Canaries
21. La cascade
Instrument: 11-string lute, Joel van Lennep
Playing time: 71'
Recording date: June 1987
On Gaultier see:
http://www.musicologie.org/Biographies/g/gaultier_ennemond.html
This post also includes the lute tablature (score) of the complete works of the Gaultiers (Ennemond and Denis), in two volumes, in the transcription of Richard Civiol.
Download:
http://www.ftp2share.com/file/11303/GaultierHopkinsonSmith.html
See also my previous post of the lute works of Jacques Gallot played by Hopkinson Smith:
http://avaxhome.ws/music/gallot-lute-hopkinson-smith.html