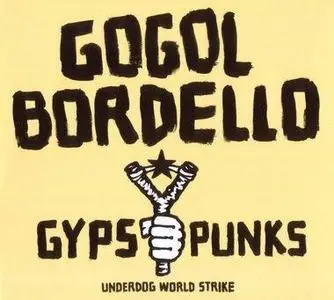 Gogol Bordello - Gypsy Punks Underdog World Strike, 2005 y.
MP3 320 Kbps | Covers
Styles: Gypsy Punk, Punk Сabaret, Obscuro, Gypsy
These "gypsy punks," as the band jubilantly describes itself, were once precisely that, a spectacular clash of cultures that smashed the exuberance of Ukrainian gypsy music and the pounding rhythms and exhilarating fire of Slavic folk, with the roar of punk rock. That was then, but now globalization has got them in its grip, and Gogol Bordello set about crashing through national boundaries, reconnecting the cultural links borders have severed. If a fire and fury for life fed the soul of the gypsy, the Slav, and the punk, it also lay at the heart of hard rock and heavy metal, and so into the meat grinder goes incendiary lead guitar. Flamingo's fire lies in its emotive rhythms and dangerous atmospheres, both of which seep into the set as well. You can hear it on "60 Revolutions," and even more magnificently on the stomping "Think Locally Fuck Globally," whose rhythms subtly quicken into a furious flamingo fire, before sweeping into a tribal tattoo, finally flinging itself out in a gypsy swirl. "Not a Crime" careens into Arabesque, "Immigrant Punk" skanks straight into reggae, while "Underdog World Strike" heads underground, interweaving hip-hop, punk, and reggae to gypsy's own roots. Frontman/lyricist Eugene Hutz explains how his own history drives him on the autobiographical "Undestructable," accompanied by a cheery punky reggae backing that defies one not to sing along. And it's not the only one for much of the set is spectacularly anthemic, from the fist-in-the-air fervor of the Oi!-esque "Not a Crime," the fashion-fling command chorus of "Start Wearing Purple," to the life-affirming "Undestructable." One may even start phonetically parroting the lyrics of "Santa Marinella." That latter song is not sung in English, and there's foreign lyrics sprinkled about the set, but the emotional meaning is always clear. A truly universal album that encompasses America's eternal immigrant story, urban living, and a love of life and music that translates into every language on earth. It's the fire in not just the gypsy soul, but the soul of everyone, and Bordello ignite it into a blaze as bright as life itself.
Gogol Bordello
- ансамбль, доведший концепцию космополитизма до крайности: в его составе украинский цыган, еврей из Израиля, таиландец, американец и шотландец китайского происхождения.
Название жанра - джипси-панк - придумано самим основателем и духовным отцом ансамбля Юджином Хатцом (он же Eugene Hutz, он же Евгений Гудзь) и отражает смешанные корни автора. В детстве он провел много времени в Закарпатье, где синтез украинской, венгерской, словацкой и цыганской культур привел к возникновению уникальной по своему характеру культурной традиции.
Gogol Bordello - Gypsy Punks Underdog World Strike, 2005 г.
1. Sally (Gogol Bordello, Hutz) 3:02
2. I Would Never Wanna Be Young Again (Glebov, Gogol Bordello, Hutz) 3:46
3. Not a Crime (Gogol Bordello, Hutz, Traditional, Treglia) 4:31
4. Immigrant Punk (Gogol Bordello, Hutz) 3:45
5. 60 Revolutions (Erazo, Gogol Bordello, Hutz) 2:58
6. Avenue B (Gogol Bordello, Hutz) 3:07
7. Dogs Were Barking (Gogol Bordello, Hutz) 4:53
8. Oh No (Gogol Bordello, Hutz) 2:59
9. Start Wearing Purple (Gogol Bordello, Hutz) 3:42
10. Think Locally Fuck Globally (Gogol Bordello, Hutz) 4:23
11. Underdog World Strike (Gogol Bordello, Hutz) 5:24
12. Illumination (Gogol Bordello, Hutz) 3:52
13. Santa Marinella (Gogol Bordello, Hutz) 5:28
14. Undestructable (Gogol Bordello, Hutz) 4:53
15. Mishto! (Gogol Bordello, Hutz) 6:51
Eugene Hutz - Guitar (Acoustic), Percussion, Vocals, Orchestration, Mixing
Oren Kaplan - Guitar (Acoustic), Guitar, Vocals (bckgr), Mixing
Yuri Lemeshev - Accordion, Vocals, Vocals (bckgr)
Rea Mochiach - Bass, Percussion, Vocals (bckgr), Engineer, Electronics, Beat Programming
links:
ЗДЕСЬ
или:
mp3 320kbps, 160M, Covers
pass:
tipikin