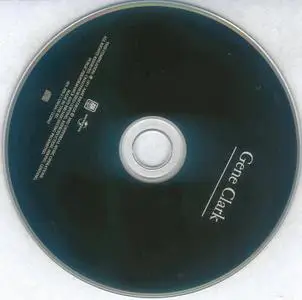 Gene Clark - White Light 1971
320 Kbps VBR MP3 / 112,4 Mb / 2 zip-files / covers included
Now this is classic rock!
Gene Clark's 1971 platter, with its stark black cover featuring his silhouette illuminated by the sun, was dubbed White Light – though the words never appear on the cover – and if ever a title fit a record, it's this one. Over its nine original tracks, it has established itself as one of the greatest singer/songwriter albums ever made. After leaving the Byrds in 1966, recording with the Gosdin Brothers, and breaking up the Dillard and Clark group that was a pioneering country-rock outfit, Clark took time to hone his songwriting to its barest essentials. The focus on these tracks is intense, they are taut and reflect his growing obsession with country music. Produced by the late guitarist Jesse Ed Davis (who also worked with Taj Mahal, Leon Russell, Link Wray, and poet John Trudell, among others), Clark took his songs to his new label with confidence and they supported him. The band was comprised of Flying Burrito Brothers' bassist Chris Ethridge, the then-Steve Miller Band-pianist (and future jazz great) Ben Sidran, organist Michael Utley, and drummer Gary Mallaber. Clark's writing, as evidenced on "The Virgin," the title cut, "For a Spanish Guitar," "One in a Hundred," and "With Tomorrow," reveals a stark kind of simplicity in his lines. Using melodies mutated out of country, and revealing that he was the original poet and architect of the Byrds' sound on White Light, Clark created a wide open set of tracks that are at once full of space, a rugged gentility, and are harrowingly intimate in places. His reading of Bob Dylan's "Tears of Rage" rivals, if not eclipses, the Band's. Less wrecked and ravaged, Clark's song is more a bewildered tome of resignation to a present and future in the abyss. [The five bonus tracks on the import CD version should have been included on the original. Certainly they reveal different nuances in the recording process used for the album, but these songs, especially "Winter In," and "Because of You," are as strong as anything on the officially released version. In addition, Clark's radical, folksy cover of Ben E. King's "Stand by Me," with hand percussion and Jesse Ed's stunning acoustic guitar fills, feels like a modern day cowboy love song. Its texture and tenderness offers an entirely different kind of empathy. This CD issue of White Light, with its dramatic, even breathtaking sound, is a record of depth, grace, and an intimacy that is singular in its elegance and aplomb. Now this is classic rock.
AMG by Thom Jurek
Songs:
1 The Virgin
2 With Tomorrow
3 White Light
4 Because Of You
5 One In A Hundred
6 For A Spanish Guitar
7 Where My Love Lies Asleep
8 Tears Of Rage
9 1975
10 Because Of You (alternate mix)
11 Stand By Me
12 Ship Of The Lord
13 Opening Day
14 Winter In
http://rapidshare.de/files/26436675/Gene_Clark_-_White_Light_1.zip
http://rapidshare.de/files/26436107/Gene_Clark_-_White_Light_2.zip