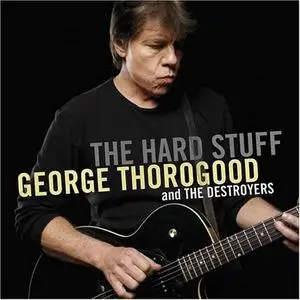 Home Page
Title:
The Hard Stuff
Artist:
George Thorogood and The Destroyers
Release Date:
May 30, 2006
Label:
Eagle Records (Red)
Format:
MP3
Bitrate:
192 Kbit/s
Size:
78.1 MB
Amazon.com
Brushing off criticisms that his albums all sound the same as casually as he peels off Chuck Berry licks from his trusty Gibson, George Thorogood keeps the faith on The Hard Stuff. Coproducer Jim Gaines (Jimmy Thackery, Santana, Luther Allison, Stevie Ray Vaughan), who knows his way around a bluesy riff, returns to add his touch. The combination of rugged production with a relatively varied set makes this a keeper in the bulging Thorogood catalog. The guitarist and his band churn through a rollicking set with as much enthusiasm and fire as someone with half his 56 years. The Stonesy attack of "Rock Party" is mixed with high-voltage shuffles ("Takin' Care of Business" [not the BTO tune]), swinging, upbeat instrumentals ("Cool It!"), and the usual assortment of unexpected covers from the likes of Bo Diddley, John Lee Hooker, Howlin' Wolf, and Fats Domino. Thorogood maintains a refreshing sense of self-deprecation on the boogielicious "I Didn't Know," where he repeats variations on the title with a wink and a smile. A surprisingly subtle acoustic cover of Bob Dylan's "Drifter's Escape" proves he isn't afraid to take it down a notch, and a sizzling, rootsy take on Johnny Shines's "Dynaflow Blues" shows his proficiency on National Steel slide guitar.
At almost an hour, the album is on the long side, but the playing is consistently inspired and Thorogood never sounds like he's going through the motions–no small feat at this stage of his thirty-plus-year career. With enough diversity to keep it interesting, The Hard Stuff proves the typically dependable Thorogood still has plenty of gas left in the tank to keep his cylinders firing.
–Hal Horowitz
Product Description
George Thorogood is the quintessential American blues-rock guitarist. In a career that spans more than three decades, he has led his band The Destroyers to the very pinnacle of the blues pyramid spawning such classic tracks as "Bad To The Bone", "I Drink Alone", "Get A Haircut" and "One Bourbon, One Scotch, One Beer" among others. This new album sees him honing his talent even further on new self-penned tracks such as "The Hard Stuff" and "Any Town USA", and a selection of classic covers such as John Lee Hooker's "Huckle Up Baby" and Fats Domino's "Hello Josephine", all given the unmistakeable Thorogood treatment.
Tracklist:
01 - Hard Stuff
02 - Hello Josephine
03 - Moving
04 - I Got My Eyes On You
05 - I Didn't Know
06 - Any Town USA
07 - Little Rain
08 - Cool It
09 - Love Doctor
10 - Dynaflow Blues
11 - Rock Party
12 - Drifter's Escape
13 - Give Me Back My Wig
14 - Taking Care Of Business
15 - Huckle Up Baby
ftp2share
RapidShare
MiHD.net