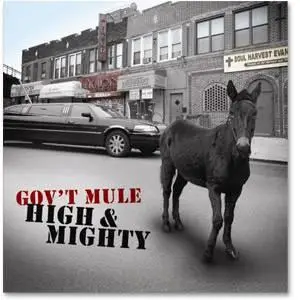 Gov't Mule - High & Mighty (2006)
Genre: Rock, Blues, Jazz | MP3 | 320 Kbps | 165 Mb
"High and Mighty is – without seeing with the pink glasses - the best album most immense up to now of the quartet around Warren Haynes, Weakly of abbot, Danny Louis and Andy Hess, and already the Opener "Mr. High and Mighty" whom we already introduce today at this point begins with a mighty rock reef and allows to foresee what has to offer the complete album: the mixture of rock and improvising music of blues, folk, reggae, soul and jazz connects all musical bridges and points once more, why GOV'T MULE are so unique.
"Our purpose was to catch the chemistry and the Spirit the volume what has incredibly developed since the last album", says Haynes. "The last album 'Deja Voodoo' was first in the new occupation, and with the second one the understanding is by far stronger. We have taken our teamwork on the stage with in the studio, besides, there has originated something quite magic".
The new studio album of Gov'T Mule with the title "High and Mighty" appears on 22.08.2006 in the USA! Yes, and the music has it really in itself! The unanimous opinion of those which might hear the album already to begin with is unequivocal: One speaks unanimously of believing barely with the huge number of high-carat outputs of this tape, from the "best Gov't Mule album of all times" and this, with fans, as well as with the media! If we are glad about the new material of Warren Haynes und Co.!"