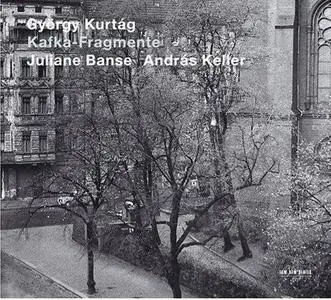 György Kurtág - Kafka-Fragmente
ECM 2006 | EAC image + CUE
Wins
Modern Music Prize of Japan's Record Academy Awards 2006
.
Also received the quarterly award of the German Record Critics (
Preis der deutschen Schallplattenkritik, Bestenliste 2/2006
)
The album received the
Coup de Cœur Musique Contemporaine of France's Academie Charles Cros
, while its composer was given a
Lifetime Achievement Award
from the same institution.
The hour-long Kafka-Fragments, completed in 1986, is his biggest work to date: it's a characteristic cycle of 40 tiny movements, scored for soprano voice and violin, that adds up to something far greater than the sum of its parts. The text is a mosaic of quotations from Kafka's writings, diaries and letters. The cycle is divided into four parts, articulated by the two longest movements; they draw a huge range of expression from soprano Juliane Banse and violinist András Keller. Banse's nuances of vocal colouring are wonderfully subtle, while Keller can conjure up huge intensity from a single musical gesture. They show Kafka Fragments to be a quiet masterpiece of richness and emotional power.

Andrew Clements, The Guardian