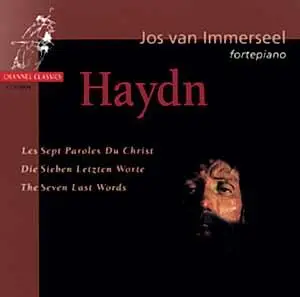 Franz Joseph Haydn - The Seven Last Words
Jos van Immerseel - Fortepiano
About the composer:
Franz Joseph Haydn (March 31 or April 1, 1732 – May 31, 1809) was a leading composer of the Classical period, called the "Father of the Symphony" and "Father of the String Quartet".

A life-long resident of Austria, Haydn spent most of his career as a court musician for the wealthy Eszterházy family on their remote estate. Being isolated from other composers and trends in music until the later part of his long life, he was, as he put it, "forced to become original".

Joseph Haydn was the brother of Michael Haydn, himself a highly regarded composer, and Johann Evangelist Haydn, a tenor.

Childhood
Joseph Haydn was born in 1732 in the Austrian village of Rohrau near the Hungarian border. His father was Matthias Haydn, a wheelwright who also served as "Marktrichter", an office akin to village mayor. Haydn's mother, the former Maria Koller, had previously worked as a cook in the palace of Count Harrach, the presiding aristocrat of Rohrau. Neither parent could read music. However, Matthias was an enthusiastic folk musician, who during the journeyman period of his career had taught himself to play the harp. According to Haydn's later reminiscences, his childhood family was extremely musical, and frequently sang together and with their neighbors.

Haydn's parents were perceptive enough to notice that their son was musically talented and knew that in Rohrau he would have no chance to obtain any serious musical training. It was for this reason that they accepted a proposal from their relative Johann Matthias Franck, the schoolmaster and choirmaster in Hainburg, that Haydn be apprenticed to Franck in his home to train as a musician. Haydn thus went off with Franck to Hainburg (ten miles away) and never again lived with his parents. At the time he was not quite six.

Life in the Franck household was not easy for Haydn, who later remembered being frequently hungry as well as constantly humiliated by the filthy state of his clothing. However, he did begin his musical training there, and soon was able to play both harpsichord and violin. The people of Hainburg were soon hearing him sing treble parts in the church choir.

There is reason to think that Haydn's singing impressed those who heard him, because two years later (1740), he was brought to the attention of Georg von Reutter, the director of music in St. Stephen's Cathedral in Vienna, who was touring the provinces looking for talented choirboys. Haydn passed his audition with Reutter, and soon moved off to Vienna, where he worked for the next nine years as a chorister, the last four in the company of his younger brother Michael.

Like Franck before him, Reutter didn't always bother to make sure Haydn was properly fed. The young Haydn greatly looked forward to performances before aristocratic audiences, where the singers sometimes had the opportunity to satisfy their hunger by devouring the refreshments. Reutter also did little to further his choristers' musical education. However, St. Stephen's was at the time one of the leading, musical centers in Europe, where new music by leading composers was constantly being performed. Haydn was able to learn a great deal by osmosis simply by serving as a professional musician there.

Struggles as a freelancer
In 1749, Haydn had matured physically to the point that he was no longer able to sing high choral parts. On a weak pretext, he was summarily dismissed from his job. He evidently spent one night homeless on a park bench, but was taken in by friends and began to pursue a career as a freelance musician. During this arduous period, which lasted ten years, Haydn worked many different jobs, including valet–accompanist for the Italian composer Nicolò Porpora, from whom he later said he learned "the true fundamentals of composition". He laboured to fill the gaps in his training, and eventually wrote his first string quartets and his first opera. During this time Haydn's professional reputation gradually increased.

The years as Kapellmeister
In 1759, or 1757 according to the New Grove Encyclopedia, Haydn received his first important position, that of Kapellmeister (music director) for Count Karl von Morzin. In this capacity, he directed the count's small orchestra, and for this ensemble wrote his first symphonies. Count Morzin soon suffered financial reverses that forced him to dismiss his musical establishment, but Haydn was quickly offered a similar job (1761) as assistant Kapellmeister to the Eszterházy family, one of the wealthiest and most important in the Austrian Empire. When the old Kapellmeister, Gregor Werner, died in 1766, Haydn was elevated to full Kapellmeister.

As a liveried servant of the Eszterházys, Haydn followed them as they moved among their three main residences: the family seat in Eisenstadt, their winter palace in Vienna, and Eszterháza, a grand new palace built in rural Hungary in the 1760s. Haydn had a huge range of responsibilities, including composition, running the orchestra, playing chamber music for and with his patrons, and eventually the mounting of operatic productions. Despite the backbreaking workload, Haydn considered himself fortunate to have his job. The Eszterházy princes (first Paul Anton, then most importantly Nikolaus I) were musical connoisseurs who appreciated his work and gave him the conditions needed for his artistic development, including daily access to his own small orchestra.

In 1760, with the security of a Kapellmeister position, Haydn married. He and his wife, the former Maria Anna Keller, did not get along, and they produced no children. Haydn may have had one or more children with Luigia Polzelli, a singer in the Eszterházy establishment with whom he carried on a long-term love affair, and to whom he often wrote on his travels.

During the nearly thirty years that Haydn worked in the Eszterházy household, he produced a flood of compositions, and his musical style became ever more developed. His popularity in the outside world also increased. Gradually, Haydn came to write as much for publication as for his employer, and several important works of this period, such as the Paris symphonies (1785–6) and the original orchestral version of The Seven Last Words of Christ (1786), were commissions from abroad.

Around 1781 Haydn established a friendship with Mozart, whose work he had already been influencing by example for many years. According to later testimony by Stephen Storace, the two composers occasionally played in string quartets together. Haydn was hugely impressed with Mozart's work, and in various ways tried to help the younger composer. During the years 1782 to 1785, Mozart wrote a set of string quartets thought to be inspired by Haydn's Opus 33 series. On completion he dedicated them to Haydn, a very unusual thing to do at a time when dedicatees were usually aristocrats. The extremely close 'brotherly' Mozart-Haydn connection may be an expression of Freemasonic sympathies as well: Mozart and Haydn were members of the same Masonic lodge. Mozart joined in 1784 in the middle of writing those string quartets subsequently dedicated to his Masonic brother Haydn. This lodge was a specifically Catholic rather than a deistic one.

In 1789, Haydn developed another friendship with Maria Anna von Genzinger (1750–93), the wife of Prince Nicolaus's personal physician in Vienna. Their relationship, documented in Haydn's letters, was evidently intense but platonic. The letters express Haydn's sense of loneliness and melancholy at his long isolation at Eszterháza. Genzinger's premature death in 1793 was a blow to Haydn, and his F minor variations for piano, Hob. XVII:6, which are unusual in Haydn's work for their tone of impassioned tragedy, may have been written as response to her death.

The London journeys
In 1790, Prince Nikolaus died and was succeeded by a thoroughly unmusical prince who dismissed the entire musical establishment and put Haydn on a pension. Thus freed of his obligations, Haydn was able to accept a lucrative offer from Johann Peter Salomon, a German impresario, to visit England and conduct new symphonies with a large orchestra.

The visit (1791-2), along with a repeat visit (1794-5), was a huge success. Audiences flocked to Haydn's concerts, and he quickly achieved wealth and fame: one review called him "incomparable." Musically, the visits to England generated some of Haydn's best-known work, including the Surprise, Military, Drumroll, and London symphonies, the Rider quartet, and the Gypsy Rondo piano trio.

The only misstep in the venture was an opera, L'anima del filosofo, which Haydn was contracted to compose, and paid a substantial sum of money for. Only one aria was sung at the time, and 11 numbers were published; the entire opera was not performed until 1950.

Final years in Vienna
Haydn actually considered becoming an English citizen and settling permanently, as composers such as Handel had before him, but decided on a different course. He returned to Vienna, had a large house built for himself, and turned to the composition of large religious works for chorus and orchestra. These include his two great oratorios The Creation and The Seasons and six masses for the Eszterházy family, which by this time was once again headed by a musically-inclined prince. Haydn also composed the last nine in his long series of string quartets, including the Emperor, Sunrise, and Fifths quartets. Despite his increasing age, Haydn looked to the future, exclaiming once in a letter, "how much remains to be done in this glorious art!"

In 1802, Haydn found that an illness from which he had been suffering for some time had increased greatly in severity to the point that he became physically unable to compose. This was doubtless very difficult for him because, as he acknowledged, the flow of fresh musical ideas waiting to be worked out as compositions did not cease. Haydn was well cared for by his servants, and he received many visitors and public honours during his last years, but they cannot have been very happy years for him. During his illness, Haydn often found solace by sitting at the piano and playing Gott erhalte Franz den Kaiser, which he had composed himself as a patriotic gesture in 1797. This melody later became used for the Austrian and German national anthems.

Haydn died in 1809 following an attack on Vienna by the French army under Napoleon. Among his last words was his attempt to calm and reassure his servants as cannon shots fell on the neighborhood.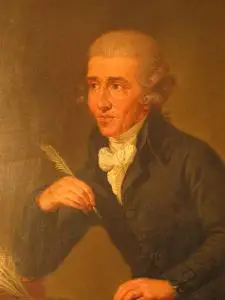 About the work:
The Seven Last Words of Christ is a classical composition by Joseph Haydn, featuring seven meditations on the last words of Jesus Christ, commissioned in 1787 for the Good Friday service at the Grotto Santa Cueva near Càdiz in southern Spain.

Composer's explanation of the piece:
The composer later explained to his amanuensis G.A. Griesinger:
"Some fifteen years ago I was requested by a canon of Cádiz to compose instrumental music on the seven last words of Our Savior on the Cross. It was customary at the Cathedral of Cádiz to produce an oratorio every year during Lent, the effect of the performance being not a little enhanced by the following circumstances. The walls, windows, and pillars of the church were hung with black cloth, and only one large lamp hanging from the center of the roof broke the solemn darkness. At midday, the doors were closed and the ceremony began. After a short service the bishop ascended the pulpit, pronounced the first of the seven words (or sentences) and delivered a discourse thereon. This ended, he left the pulpit and fell to his knees before the altar. The interval was filled by music. The bishop then in like manner pronounced the second word, then the third, and so on, the orchestra following on the conclusion of each discourse. My composition was subject to these conditions, and it was no easy task to compose seven adagios lasting ten minutes each, and to succeed one another without fatiguing the listeners; indeed, I found it quite impossible to confine myself to the appointed limits."

Original Formulation for Orchestra
Originally these seven meditations on the Last Words (culled from the various gospels) were for a full classical orchestra; as well as the actual "musical discourse" Haydn added an "Introduzione" and, at the end, a "Terremota" or earthquake, after Matthew 28:2. Much of the work is consolatory and meditative, but this last movement introduces a very different element of supernatural intervention: Haydn asks the orchestra to play "Presto e con tutta la forza," and it closes with the unprecedented dynamic of fortississimo (triple forte).

Other arrangements by Haydn
Haydn later went on to arrange this orchestral work for string quartet, and even for voices; in the first violin part of the quartet version, he includes the Latin text directly under the notes which "speak" the words musically. This quartet version has come under some suspicion of its authenticity, due to the occasionally careless manner of transcription, with crucial wind passages left out and only the accompanimental figures in the strings retained; although this is the most popular version of this piece, many quartets make their own adaptation of the orchestral original.
Tracklist: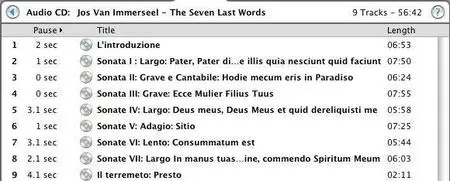 The album is split in 2x70 MB and 1x47 MB parts. Click
HERE
to get the archive with the download links. The password for everything is
www.AvaxHome.ru
. Files are on Rapidshare, and
I don't want them mirrored
for the time being.
Comments are welcome, here or by PM!