Considered by many to be the true inventors of the New Nordic movement, this career retrospective of Hedningarna goes back to their beginnings as an acoustic Swedish trio, spans 14 years and five recordings, and includes a rare remix and two brand new tracks by the current electro/acoustic, Swedish/Finnish sextet. Hedningarna's influence can be felt in virtually every major Nordic roots band performing today. They were the first to break through to the rock and rave circuits, and show a new generation how ancient Nordic folk music can be relevant to so many modern musical styles.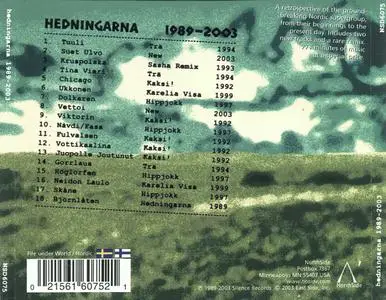 01-Tuuli
02-Suet Ulvo
03-Kruspolska (Sasha Remix)
04-Tina Vieri
05-Chicago
06-Ukkoren
07-Dolkaren
08-Vettoi
09-Viktorin
10-Navdi/Fasa
11-Fulvasen
12-Vottikaalina
13-Joupolle Juotunut
14-Gorrlaus
15-Höglorfen
16-Neidon Laulo
17-Skåne
18-Björnlåten
Hedningarna - 1989-2003 - 2003 - Part 1
Hedningarna - 1989-2003 - 2003 - Part 2
Password : kzd
Enjoy!
Hedningarna - Hedningarna- 1989
Hedningarna - Kaksi! - 1992
Hedningarna - Trä - 1994
Hedningarna - Hippjokk - 1997
Hedningarna - Karelia Visa - 1999