This is a video of Jimi Hendrix playing Hear Ma Train a comin' on a 12 string acoustic
XviD | MP3(224Kbps) | 702Kbps | 44,100 Hz | Stereo | 24Mb
I know nothing about the time or where this was done, or came from but I can tell you it's damn good
Nice to be able to see him playing acoustic as always. the guy was a genius and I think it a shame that he got known for the crap like playing with his teeth and setting his guitar alight because, if you get the chance to listen to some old stuff or stuff he did before he got so famous…you will hear a really soulful genius of the blues at work.
This comes out in this video.
Enjoy it.
Couple more screenshots: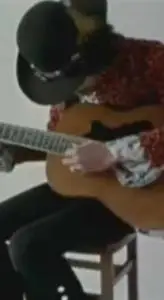 Links:
http://www.badongo.com/file/399464
MIRROR 1 -
http://www.sendspace.com/file/kpi0za
MIRROR 2 -
http://www.megaupload.com/?d=5PA1TW72
PASSWORD IS: MP3@3pm
Please comment if you like this. I have plenty more!
Fa
http://mp33pm.blogspot.com