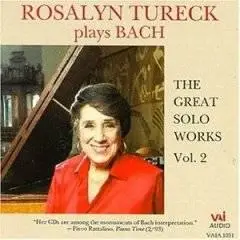 Rosalyn Tureck - Bach: The Great Solo Works, Volume 2
Flac | Size: 3x85 mb
Composer: Johann Sebastian Bach | Performer: Rosalyn Tureck | Audio CD (January 31, 1995) | Label: Video Artists Int'l | ASIN: B000003LJL
Rosalyn Tureck (December 14, 1914 - July 17, 2003) was an American pianist and harpsichordist who was particularly associated with the music of Johann Sebastian Bach. She was born in Chicago, Illinois.
Tureck did not only play Bach, but had a wide-ranging repertoire which included works by composers including Ludwig van Beethoven, Johannes Brahms, and Frédéric Chopin, as well as more modern composers such as David Diamond, Luigi Dallapiccola, and William Schuman. Diamond's Piano Sonata No. 1 was inspired by Tureck's playing.
Tureck studied at the Juilliard School of music, where one of her teachers was Leon Theremin. She made her debut at Carnegie Hall playing the theremin, an electronic instrument.
For a while she followed Wanda Landowska in playing Bach's keyboard music on a harpsichord, but later returned to playing the piano. She was an honorary fellow of St Hilda's College, Oxford.
She died in New York in 2003 at age 88.