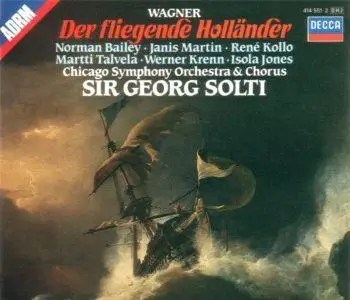 Richard Wagner – Der fliegende Hollaender
2 Compact Discs | Playing time: 2.18'.49'' | APE | cue-file | cover | 623 mb | VBR MP3 -> 240mb
Classical - Opera
Norman Bailey, Janis Martin, René Kollo, Martti Talvela …
Chicago Symphony Orchestra & Chorus
Cond. Sir Georg Solti
Studio Recording 1976
Digital Remastered, Decca Release 1985
2 Compact Discs | Playing time: 2.18'.49''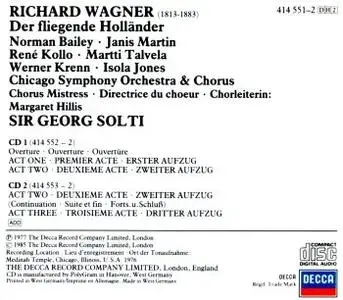 backside enlarged view
Der fliegende Holländer
(English title: The Flying Dutchman, Dutch title De vliegende Hollander)
is an opera, with music and libretto by Richard Wagner.
Wagner originally wrote it to be performed without intermission,
an example of his efforts to break with tradition –
and, while today's opera houses sometimes still follow this directive,
it is most often performed in three acts.
The central theme is redemption through love,
which Wagner returns to in most of his subsequent operas.
Wagner conducted the premiere at the Semper Oper in Dresden, 1843.
This work marks the first major shift in Wagner's oeuvre away
from conventional opera and towards music drama.
That is, rather than relying on a series of individual songs with clear boundaries,
he created an uninterrupted melody filled with leitmotifs
(literally, "leading motifs") associated with the characters and themes.
The leitmotifs are all introduced in the overture, which begins with a well-known
ocean or storm motif before moving into the Dutchman and Senta motifs…
(from Wikipedia, the free encyclopedia)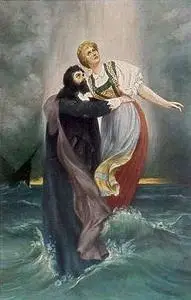 Decca track listing and samples