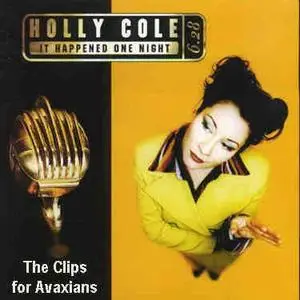 Holly Cole .:. It Happened One Night (1996 - Live) .:. The Clips
6 quicktime files (.mov) | Duration ~24:30 | 242 MB (218 MB, compressed)
As promised, here are the six quicktime files of Holly singing from
It Happened One Night
. If you like the music, you can support the artist by buying the album.
An Album Review
It Happened One Night is a nice overview of Holly Cole and her band doing their night club act live. Containing such Cole standards as "Cry (If You Want To)" and "Que Sera Sera," this disc has all the charm of a late night club date without the smoky atmosphere or the drunks to detract you from the pleasures of listening. Recorded on a one-night stand in Montreal, Cole and her band work their charms well indeed.
James Chrispell, All Music Guide.
Cliplist
Calling You (videoclip) 04:34
Cry (If You Want To) (live) 03:13
I Can See Clearly Now (videoclip) 04:13
Little Boy Blue (live) 03:46
Que Sera Sera (live) 05:23
Train Song (live) 03:21
Some more info
Although the North American release was an enhanced CD, the Japanese release (1996, Toshiba-EMI, Inc. Japan, Catalog # TOCP-8900) was not; That was a regular audio CD, so it included more tracks:
Cry (If You Want To) (C.Scott)
Get Out Of Town (C.Porter)
Train Song (T.Waits)
* Good Old World / Take Me Home (T.Waits)
* Invitation To The Blues (T.Waits)
Don't Let The Teardrops Rust Your Shining Heart (B.Watt)
* Little Boy Blue (T.Waits)
Losing My Mind (S.Sondheim)
Tango Til They're Sore (T.Waits)
Que Sera Sera (R.Evans-J.Livingston)
Calling You (B.Telson)
* I Want You (T.Waits)
The last track, "I Want You" is a special studio remix.
If someone has the Japanese version extra tracks, I'd be oblidged if (s)he shared them with us.
6 separate rar files with recovery record, 218 MB, usual password:
http://rapidshare.com/files/4298201/cy.rar
30,9 MB
http://rapidshare.com/files/4293097/c.rar
37,1 MB
http://rapidshare.com/files/4302611/icscn.rar
32,3 MB
http://rapidshare.com/files/4306943/lbb.rar
35,1 MB
http://rapidshare.com/files/4312948/qss.rar
50,9 MB
http://rapidshare.com/files/4316400/ts.rar
31,8 MB
<b>Let's keep http sharing alive!</b>