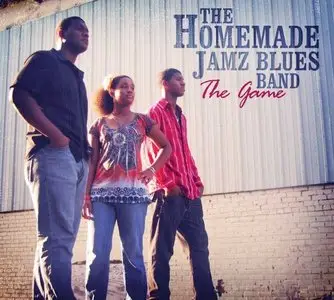 The Homemade Jamz Band - The Game (2010)
MP3 320 Kpbs | 48:36 | Front Cover Only | 107 Mb | RAR 3%
Blues | Label: The Homemade Jamz Blues Band
The Youngest Blues Band in America…
Homemade Jamz Blues Band is a Tupelo, Mississippi music trio consisting of siblings Ryan (vocal and guitar), Kyle (bass) and Taya Perry (drums). In December 2007, the trio made music history as the youngest blues band to achieve a record deal: Toronto-based NorthernBlues Music signed the band when Ryan was 16, Kyle was 14 and Taya was 9.
Homemade Jamz Blues Band has played in blues festivals and concert engagements across North America and Europe; in some sets, their father backs them on harmonica. On june 2008 they played on 'B.B.King Homecoming' (Indianola Mississippi). They won second place in the band category at the 23rd International Blues Challenge, and won the Bay Area Blues Society's West Coast Hall of Fame Blues New Artist of the Year for 2008.
Aside from their youth, the band has been noted for their homemade instruments: the guitar and bass used by Ryan and Kyle, respectively, are crafted from Ford automobile parts that still feature the manufacturer's logo.
They performs the blues with the confidence of knowing their Mississippi history, firsthand, redirecting the love, hard times, betrayal and strife into their music. How do they do it? They "connect" with the ancestral sounds…it are hardwired within them. This is their third album.
"In my 82 years, I've never seen something musically… so remarkable. These young kids have got energy, talent and do the blues proud with their own flavor. I believe they've got a GREAT future ahead."
– B.B. King
A mais jovem banda de blues da America…
Homemade Jamz Blues Band é um trio de Tupelo - Mississippi composto dos irmãos Ryan (vocal e guitarra), Kyle (baixo) e Taya Perry (bateria). Em dezembro de 2007, o trio fez história como a banda de blues mais a conseguir um contrato de gravação: A NorthernBlues Music, de Toronto, assinou com a banda quando Ryan tinha 16 anos, Kyle tinha 14 anos e Taya tinha 9 anos.
Blues Band Homemade Jamz tocou em festivais de blues e participações em concertos pela América do Norte e Europa, em alguns sets, seu pai toca harmônica (gaita). Em junho 2008 eles tocaram no "B.B.King Homecoming" (Indianola - Mississippi). Eles conquistaram o segundo lugar na categoria banda no 23º Desafio Internacional de blues, e conquistaram Hall da Fama do Bay Area Blues Society's West Coast como Artista Revelação de blues do Ano de 2008.
Além de sua juventude, a banda tem sido conhecida por seus instrumentos caseiros: a guitarra e o baixo usado por Ryan e Kyle, respectivamente, são criados a partir de peças de automóveis Ford, que ainda apresentam o logotipo do fabricante.
Eles fazem blues com a confiança de saber sua história no Mississippi, em primeira mão, redirecionando o amor, tempos difíceis, traição e lutas em sua música. Como eles fazem isso? Eles se "conectam" com os sons ancestrais… que são conectados dentro deles. Este é o terceiro álbum deles.
"Nos meus 82 anos, eu nunca vi algo tão notável musicalmente… Esses garotos têm talento, energia e fazem o blues orgulhoso com seu próprio gosto. Acredito que eles têm um GRANDE futuro pela frente."
- B.B. King
Line-up / Banda:
Ryan Perry (vocals, guitars)
Kyle Perry (bass)
Taya Perry (drums)
Tracks / Faixas:
01. Washing Clothes
02. I'm the Man
03. The Game
04. Tupelo
05. Burned Down the House
06. Blues Train
07. Gotta Bad Bad Feeling
08. Telling Lies
09. Duck Hill Stomp
10. Nothings Changed For the Po