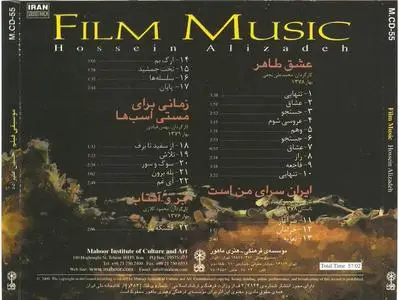 Hossein Alizadeh - Film Music (2000)
4 Soundtracks (Iranian Neo Classical Music)
The Chaste Love
Iran Is My Home
A Time for Drunkenness of Horses
Cloud and Sun
MP3 Lame Insane (320 kbs) + covers = 132 MB
Alizadeh has performed extensively throughout the United States, Europe, and Asia and has appeared on many radio and television programs, including Radio France, RIAS in Berlin, WDR in Cologne, the BBC, KCRW in Los Angeles, and KPFA in Berkeley. Some of Alizadeh's most noted compositions are, The Nava Improvisations (1976), Riders of the Plains of Hope (1977), Hesar (1977), Revolt (1983) for harp, string orchestra, and percussion, NeyNava (1983), Dream (1986) for harp and flute, Torkaman (1986), Raz-O-Niaz (1986), and Song of Compassion (1991).

Many consider Alizadeh as one of the most important figures in contemporary Persian music. He has taught at the University of Tehran and the Tehran Music Conservatory. He has written and published a number of etudes for tar and has recorded the entire body of the Radif based on the interpretation of Mirza Abdullah.
If you want to know more about the present album grab
this chm file
Dowload :
http://rapidshare.de/files/20897163/HosAl_FM.part1.rar.html
http://rapidshare.de/files/20897553/HosAl_FM.part2.rar.html
http://rapidshare.de/files/20897828/HosAl_FM.part3.rar.html
My other Iranian Music posts :
Faramarz Payvar : Soroush e Bahar (Spring's Inspiration)
Sheyda Ensemble : Be Yad e Aref
DASTAN TRIO : Journey to Persia
Masters of Persian Music : Faryad
Chemirani, Kiani, Tala'i : Musique iranienne
Enjoy
(and please pm me if any link is dead) !