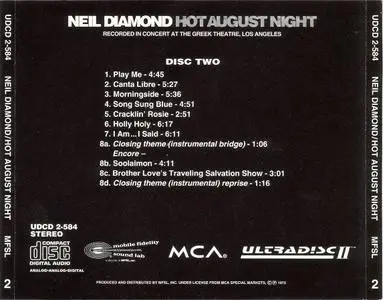 CD FULL RANGE ONLY | EXACT AUDIO COPY IMAGE (WAV+CUE) | 460 MB (314 MB RAR)| MOBILE FIDELITY SOUND LAB | AUDIOPHILE CD
Mobile Fidelity Sound Lab has been the undisputed pioneer and leader in audiophile recordings since the company's inception in 1977. Established by dedicated audiophiles, Mobile Fidelity's first and foremost goal was to offer faithfully reproduced high fidelity recordings that would compliment the numerous advances occurring in audio delivery systems. Throughout its history, Mobile Fidelity has remained true to this goal, pioneering state-of-the-art technologies and setting audiophile standards that remain in place today.
In response to rapid advancements in both recording formats and audio delivery systems over the past several years, Mobile Fidelity has maintained its ongoing commitment to improving industry standards. This has resulted in the introduction of numerous innovations in the audiophile arena: half-speed mastered Original Master Recording™ LPs, Ultra High Quality Records™ (UHQRs), high fidelity cassettes, consumer alignment devices for phono cartridges and audio cassette decks, Original Master Recording™ compact discs, the 24-karat gold plated Ultradisc™ CD and the Ultradisc™ Ultra High Resolution™ (UHR). To this day the independently owned firm continues its commitment to exceeding industry standards.
This is a true Collector's find for those individuals who want to own the finest and rarest pieces of musical history. It is similar to owning the artist's own Rare Gold Record Album in a Gold CD pressing. You will be one of the last people in the world to own these Limited Edition Long Out of Print Masterpieces that will add true value to your Collection.
MFSL LIMITED GOLD EDITION. This 24-Karat Gold Limited Edition is an audiophile collectors item that simply gives the feeling of being directly in the studio with the artist.
This recording is mastered from the Original Session Tapes and the disc is custom pressed using 24-Karat Gold (known for its superior qualities and resistance to oxidation). This Out of Print Gold bonafide collectible disc has all Liner Notes, Photos, and Artwork from the Original LP faithfully recreated.
A SONIC WORK OF ART. These Out of Print gems are the Ferrari of the audiophile CD market. Many over the last year have doubled or tripled in value. The future of these collectibles is so exciting because each piece is a sonic work of art that will never be reproduced using this expensive 24-Karat Gold mastering process. You will be one of only a few thousand in the world owning this audiophile classic.
Artist: Neil Diamond
Title: Hot August Night
Format: CD ALBUM
Record Label: Mobile Fidelity
Catalogue No: UDCD 2-584-2
Country of Origin: USA
Additional info: Deleted - A deleted or out-of-print item is one that is no longer manufactured.
Release: 1993
Original Release: December 1972 (recorded live at the Greek Theater, Los Angeles in 1972)
Chart Peak: #5
Weeks Charted: 78
Certified Gold: 12/23/72
Tracklisting
Disc Two:
01. Play Me 4:45
02. Canta Libre 5:27
03. Morningside 5:36
04. Song Sung Blue 4:51
05. Cracklin' Rosie 2:51
06. Holly Holy 6:17
07. I Am…I Said 6:11
8a. Closing Theme (instrumental Bridge) 1:06
Encore-
8b. Soolaimon 4:11
8c. Brother Love's Travelling Salvation Show 3:01
8d. Closing Theme (instrumental) Reprise 1:16
Bonus Reviews!
He sho is hip, ain't he? Neil Diamond's metamorphosis from a simple short-haired rock pop hitmaker into one of the heaviest dudes on the planet, a force of international magnitude, has been accomplished with all the grace to which true superstars are heir. Come what may, Neil did it his way. Just look at this album: A zero cool deluxe two-record set with pages inside and everything, the true document of Neil's historic concert last summer under the stars of the best city in America, Los Angeles, which is a real stronghold of Diamond fandom. They're hooked, they can't help it, and no wonder when you look at the way the man carries himself and the trappings he swaddles his soul and product in.
Attending the release of this sluice of ultimorgasmic sounds from Meister D. is some of the grooviest garnish this side of a Melanie presskit. Here on the very front cover is Neil in full flight, working it on out, and what is he doing? Pretending to jerk off, that's what. He's pantomiming whanging his clanger, and from the look on his face I'd say he's about to shoot off, and the only bogus part is that he'd like everybody to think it's 13 inches long. It's truly a pic to post in your den or rec room for years to come, no matter what some o' them psychedelic shmucks with their Hawkwind nightshade garlands might think; you don't even need a black light, and it's great to spill beer on or throw your girlfriend up against in the party's latter leagues.
The music on Hot August Night is a fine presentation of the entire spectrum of the Diamond oeuvre, from "Solitary Man" to "Song Sung Blue." It's great, pretentious, goofy pop. Neil has always had a marvelously evocative, hymn-like quality, but it's pure Hollywood reverence, and he really should get a gig writing soundtracks. Which is no putdown. There's always been a place for good corn and good pomp too. This set opens with a mighty orchestral flourish fit to put both Elvis and David Bowie to shame. And when it comes to hamming it up, Neil's one of the few who can actually outdo Elvis, as in the introduction to "Morningside": "This is a dream… a dream about an old man who dies alone… and leaves a gift behind…"
The hymn-like feeling reaches a peak on sides three and four, what with such celebrations of the common man's innate nobility as "Canta Libre" and "I Am… I Said," and by the time you reach "Brother Love"'s grand finale, you're a goner: He sounds just like Eric Burdon playing Elmer Gantry, the melodrama is irresistible, and the only thing he could do to top this would be to collaborate with James Michener and Frank Capra on a Cinerama rock opera about the second coming of Thomas Jefferson as a wandering Jesus Freak minstrel who sews this wicked land up at the seams and brings the children home and their parents into the street to dance. Starring none other.
- Lester Bangs, Rolling Stone, 3/15/73.
Diamond set the concert stage afire across the country and throughout Europe this past summer and fall, and the dynamic performances and excitement he generated is captured in this exceptional two record set. Highlights are of course his now classic hits, with a few surprises thrown in. The package demonstrates why Diamond is one of the hottest sellers and draws in the business today, and it will undoubtedly prove his biggest chart album to date.
- Billboard, 1973.
This double-record set is the album that established Diamond's reputation as a live performer. Containing passionately performed versions of his biggest hits up to this time, it sold the best of any album he'd had so far, going gold the month of its release. * * * *
- William Ruhlmann, The All-Music Guide to Rock, 1995.
Listening! You can hear a difference! Enjoy it!
Links tested by laila (thanks) 06/06/2006
DOWNLOAD RAPIDSHARE LINKS (covers included), rar files (3% recovery)
(You need FEURIO,NERO, Alcohol or EAC to burn image files to music CD; load CUE file)
:
NEW LINKS 08/07/2006
(Not tested yet…sorry):
Downl...t CD 2 part 1 (99.1 MB)
Downl...t CD 2 part 2 (99.1 MB)
Downl...t CD 2 part 3 (99.1 MB)
Downl...t CD 2 part 4 (16.9 MB)
Password (if this is require):
www.AvaxHome.ru
RapidGet User Friendly:
http://rapidshare.de/files/25061367/Neil_Diamond_-_Hot_August_Night_CD2__MFSL_.part1.rar.html
http://rapidshare.de/files/25072589/Neil_Diamond_-_Hot_August_Night_CD2__MFSL_.part2.rar.html
http://rapidshare.de/files/25080188/Neil_Diamond_-_Hot_August_Night_CD2__MFSL_.part3.rar.html
http://rapidshare.de/files/25081607/Neil_Diamond_-_Hot_August_Night_CD2__MFSL_.part4.rar.html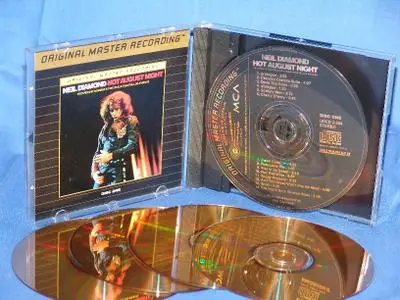 BINBONBEACH MFSL POSTS:
01.
Jean Michel Jarre - Equinoxe
02.
Supertramp - Breakfast in America
03.
Jean Michael Jarre - Oxygene
04.
Santana - Abraxas
05.
Alan ...hen Court - Sound Check
06.
The Police - Synchronicity
07.
U2 - The Unfogettable Fire
08.
Emerson, Lake & Palmer - Trilogy
09.
The A...Mystery And Imagination
10.
Cat Stevens - Teaser and The Firecat
11.
Cat Stevens - Tea For The Tillerman
12.
Steve Winwood: Arc Of A Diver
13.
Vangelis - Chariots of Fire
14.
Ultradisc II 50th Anniversary Sampler
15.
Stan ...ilberto - Getz Gilberto
16.
Elton John - Tumbleweed Connection
17.
Elton John - Honky Chateau
18.
Bee Gees - Trafalgar
19.
Sting - The Dream Of The Blue Turtles
20.
Moody...earch Of The Lost Chord
21.
Areth...y Soul & Aretha Now
22.
The M...t Artist: Sonny Rollins
23.
Steve...lking Back To The Night
24.
Areth... Man The Way I Love You
25.
The M... Blues At Carnegie Hall
26.
Neil Diamond - Hot August Night CD 1
27.
Neil Diamond - Hot August Night CD 2
THANKS:::::::BINBONBEACH:::::::