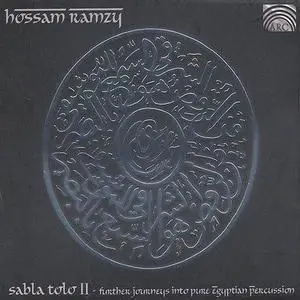 Hossam Ramzy: Sabla Tolo II (2003)
Drums (Dance, Egyptian Jazz Fusion)
MP3 Lame Insane 320 kbs (RS 130 MB)
Visit
Hossam Ramzy - Community
1. Wana Be-Ied Annak :: When I Am Not Near You
2. Harrira & Basboosa
3. My Brazilian Pearl
4. El Esma Wel Ma-Soom :: Our Fate
5. Amar El Sahara :: Moon Of The Sabara, The
6. Wady Samba Ala El Malfuf :: Samba Over Malfuf
7. Halloween
8. Oyoun El Fallaha :: Eyes Of A Fallaha, The
9. Ya Gama-A :: Calling All The Group
10. Hawary Al Qahira :: The Back Streets Of Cairo
11. La' Bel Hadawa :: No, Cool And Gently, Please
12. Ya Sha-Eyya :: You Naughty, Playful Girl
13. Rakataka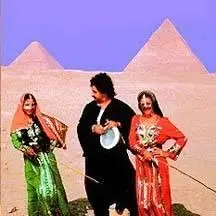 Some words by the artist:
It has become very clear to me that a second one is needed, as I have so much rhythm that I want to share with you and so many new ideas and rhythmic places I wanted to take you to. Once again, this is an album of percussive vision into the Egyptian women's solo dance.
The Tabla Solo is an exciting feature in any dance routine, and it can also be the bucket of water tossed over the fire, if it is not done properly. Above all questions there is one that has been burning in my mind : WHY DO A TABLA SOLO? Many dancers do it to impress the audience, or to show off, or just because it happens to be what everyone else is doing at the moment. But.. Can a Tabla Solo be inspiring? Can it be emotional? Can it be musical in it's concept as well as performance. Is it an aesthetic thing? Or is it just wild drumming followed by a sudden stop?
The very first Tabla Solo was invented by the late Master AHMED HAMMOUDA. He was the brother of my beloved Tabla teacher, the late Master MAHMOUD HAMMOUDA. Ever since that first solo he did for Nagwa Fouad, many have copied the same solo over and over and over again with little variety or imagination.
"SABLA TOLO 2" is another humble gift to the dancers of the world and is a collection of solos that have never been recorded before. Authentic, original, emotional, aesthetic and dynamic in their essence, covering a wide range of rhythms as well as regions from Egypt and the Middle East as far as from Kuwait all the way across to Morocco with various new rhythms created by Hossam for the Egyptian Dance such as : EL SETTATY (The one for the ladies /also meaning of the sixes = 6/8), ABU EL SEBAA (Father of the lions / also meaning of the sevens 7/8), TESAAWY(of the nines 9/4). EDDASTA ( The dozen 12/4 ) , MAHZOUZ ( Mr. Lucky 13/8 ), Just as he did with his original rhythm: ABU EL KHAMSA are his new gift to the world of Egyptian rhythm for the new millennium.
Go on…. get your Hip Scarves on, once more… With Lots of Rhythm…
Hossam Ramzy
Download:
http://rapidshare.de/files/36244878/Hossam_Ramzy_-_Sabla_Tolo_II.part1.rar.html
http://rapidshare.de/files/36247969/Hossam_Ramzy_-_Sabla_Tolo_II.part2.rar.html
http://rapidshare.de/files/36250113/Hossam_Ramzy_-_Sabla_Tolo_II.part3.rar.html

PW:
www.AvaxHome.ru
Enjoy !